Putin meets with S. Korea leader, calls for talks on N. Korea nuke threat
Russian President Vladimir Putin said Wednesday that sanctions are not enough to resolve the North Korean nuclear crisis, urging that dialogue is need to achieve progress.
Putin made the comments after meeting with his South Korean counterpart, President Moon Jae-in, on the sidelines of an economic summit in the far eastern Russian city of Vladivostok, Reuters reported.
The Russian leader also denounced Sunday's nuclear test by North Korea, its the largest to date, and said his country did not recognize the Hermit Kingdom's nuclear status.
"Pyongyang's missile and nuclear program is a crude violation of U.N. Security Council resolutions, undermines the non-proliferation regime and creates a threat to the security of northeastern Asia," Putin said at a joint news conference. "At the same time, it is clear that it is impossible to resolve the problem of the Korean Peninsula only by sanctions and pressure."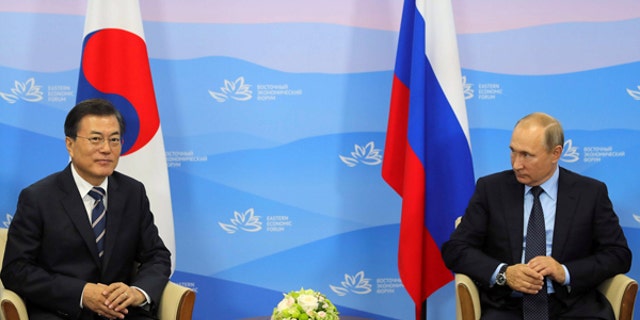 Moon didn't provide details of his conversations with Putin. He said the leaders agreed that reducing regional tension and "quickly solving" the security challenges posed by North Korea's nuclear and missile program were critical. Ahead of his meeting with Putin, Moon said that the situation could get out of hand if North Korea's missile and nuclear tests aren't stopped.
"Myself and President Putin share a view that North Korea has gone the wrong way with its nuclear and missile program and that easing tension on the Korean Peninsula is an urgent issue," Moon said at the news conference.
Moon, who took office in May, had initially showed a preference for a diplomatic approach on North Korea, but his government has since taken a harder stance as the North has continued its torrid pace in weapons tests.
In an interview with the Russian news agency Tass on Tuesday, Moon said he believes now is not the time for talks and that it was important for the international community to strengthen pressure against Pyongyang.
The Associated Press contributed reporting to this story.