Puerto Rico's New Bonds Plummet To A Record Closing Low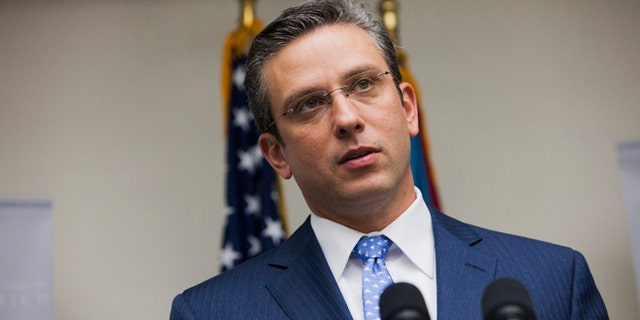 In more dismal news for the United States territory, the price of Puerto Rico's newest bonds once again fell, notching its lowest session-ending price since their debut a month ago.
The Puerto Rican bonds, which mature in 2035 and carry a coupon of 8 percent, were last traded at 87.75 cents on the dollar, pushing the yield up to 9.33 percent. On the market, bond prices and yields move in opposite directions.
Rated as junk status by three major credit ratings agencies, the bonds were still heavily sought after during their March debut by hedge funds and other risk-prone investors attracted to their relatively high, tax-free yields. The new bonds are triple tax-free - exempt from federal, state and local income taxes – so that their coupon interest rate of 8 percent is the equivalent of 13.25 percent on a comparable fully taxable bond.
The bond measure is another move by the Puerto Rican government to rescue the island from an economic downward spiral thanks to years of a lengthy recession and carrying a debt load in excess of $70 billion. Puerto Rico sold $3.5 billion of bonds in March.
Puerto Rico has remained receptive as it debates hundreds of ideas: "We are studying all alternatives and all possibilities," said Sen. María Teresa González, a member of the governor's party who has come under fire for submitting a bill that would reduce the number of holidays for public employees to six.
The island currently celebrates 20 holidays a year, double those observed in the U.S. Many people have bristled at the proposal to scrap some of the additional extra days off, some of which commemorate various historic Puerto Rican leaders. But González said the excessive number of holidays costs the government about $500 million a year in lost productivity and interruptions in service, among other things.
"Change always brings about inconveniences," she said. "I'm convinced that before we talk about something as dramatic and disastrous as layoffs, we have to consider other ideas."
Many suggestions have come as Gov. Alejandro García Padilla prepares to submit the first balanced budget in decades, having promised U.S. investors and credit agencies that he will eliminate an $820 million deficit. The governor has not detailed his cutbacks, prompting fears of layoffs, tax increases and cuts to public service.
Opposition legislator Rep. Ricardo Llerandi Cruz has proposed eliminating 41 government agencies, saying it would save $160 million alone in administrative costs. He said the government has many agencies performing the same functions, noting that there's a Department of Natural Resources, which protects, develops and manages the island's environmental resources, and an Administration of Natural Resources, a division within the department with responsibilities that include overseeing projects such as cleanup efforts.
"Puerto Rico is facing the worst fiscal crisis in all of its history," Cruz said. "We need to refocus or revisit governmental priorities to face these problems."
IN one positive sign for the territory, Puerto Rico has inked an agreement last week with German-based Lufthansa Technik to build a facility for aviation maintenance, repair and overhaul in the island's northwest region.
Gov. Alejandro Garcia Padilla said Thursday that the facility will be based at Aguadilla's international airport and is expected to serve short- and medium-haul aircraft. He said work will begin in the next three months and that the company will hire up to 400 employees. Lufthansa Technik Puerto Rico will oversee operations.
Lufthansa officials said JetBlue and another unidentified major U.S. client have committed to use the facility.
The Associated Press contributed to this report.
Follow us on twitter.com/foxnewslatino
Like us at facebook.com/foxnewslatino