Protests planned as N Ireland matches no-government record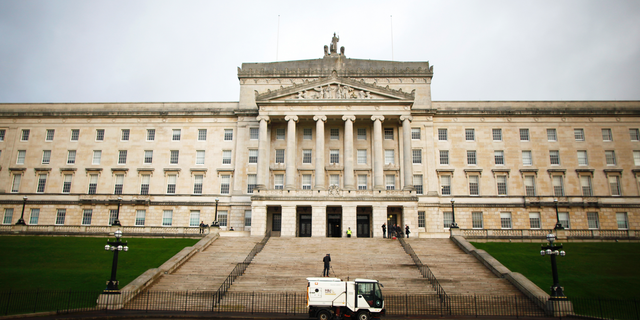 LONDON – Protesters demanded Northern Ireland's feuding political parties get back to governing, as the region matched a world record Tuesday for the longest peacetime period without a government.
It has been 589 days since the Catholic-Protestant power-sharing administration collapsed in January 2017 over a botched green-energy project. The rift soon widened to broader cultural and political issues separating Northern Ireland's British unionists and Irish nationalists, and attempts to restore the government have stalled.
Belgium spent 589 days without an elected government between 2010 and 2011.
Protesters used the hashtag #wedeservebetter to call for the former governing parties, the Democratic Unionists and Sinn Fein, to restore the power-sharing government. Demonstrators planned to hold demonstrations in several cities on Tuesday evening.
Civil servants have run the government in Northern Ireland since the administration collapsed, with major spending and policy decisions deferred. The British government stepped in to approve Northern Ireland's budget, but has resisted pressure to take direct control from London.
The political crisis has left 1.8 million people without a government and threatens power-sharing, the key achievement of the 1998 peace accord that ended decades of violence and bloodshed in Northern Ireland.
The British government agreed there was an "urgent need to resolve the current impasse." It said Tuesday its priority was "to secure a basis for political talks and re-establish a locally elected, democratically accountable devolved government at the earliest opportunity."
But there was little sign of reconciliation from Northern Ireland's politicians. Democratic Unionist Party leader Arlene Foster said it was "long past the time to get back into government," but claimed Sinn Fein was the problem.
The DUP marked Tuesday's milestone by unfurling a banner outside the Stormont government building calling on Sinn Fein to end its "boycott" of government.
Sinn Fein says the DUP is prolonging the stalemate by refusing to back legal protection for the Irish language and by blocking same-sex marriage, which is legal everywhere in the U.K. apart from Northern Ireland.
"Those rights issues will continue to have to be addressed, they are still here, they are still part of the reason why this institution collapsed. They are going to have to be addressed," said Sinn Fein politician Conor Murphy.