Protest Swells in Indian Kashmir Over Alleged Rape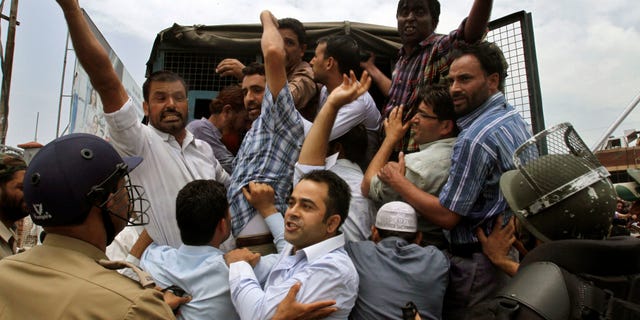 SRINAGAR, India-- Thousands hurling rocks and shouting anti-India slogans protested in a remote village in Indian-controlled Kashmir on Friday, after a woman told police she was abducted and raped by army soldiers stationed in the disputed Himalayan region.
The 25-year-old woman filed a police report saying two soldiers abducted her Tuesday near her home in Manzgam village and held her in a meadow hut, raping her repeatedly over two days, according to her statement Thursday. Her husband later told reporters she was left in the meadow and made her way home in a state of shock but would be able to identify her attackers.
The protesters demanded the arrest of the two soldiers. The Indian army and police, wary the case could touch off renewed conflict in the volatile region, insisted justice would be done.
"A special investigation team has been formed," said Shiv Murari Sahai, a top officer in the Indian-controlled portion of Kashmir. Police also said results of a medical exam of the woman were pending.
Indian army chief in Kashmir Lt. Gen. Syed Ata Hasnain said the military also is investigating, but he suggested armed Kashmiri rebels may have staged the attack to incite public anger against the army.
"Terrorists also use combat uniform" that could resemble the army's, Hasnain told reporters in Srinagar, the main city in Indian-controlled Kashmir. "We've conducted certain operations a fortnight ago in the same area, and the terrorists are under pressure. Therefore, this was something which was not unexpected."
Protests by stone-throwing youths and clashes with police have become routine during the warmer months in Kashmir, where anti-India sentiment runs deep among the mostly Muslim population and human rights groups have accused the Indian military of using rape and sexual molestation to cow the local population.
In 2009, massive protests broke out after allegations that two women were raped and murdered by men in uniform. A federal investigation later decided they had not been raped and had died from drowning.
As the news spread Thursday about the alleged attack in Manzgam, about 75 miles (120 kilometers south of Srinagar, hundreds of village residents took to the streets chanting pro-freedom and anti-army slogans.
By Friday, thousands more from neighboring villages had joined the protest, demanding the accused soldiers be arrested.
At least five civilians and four officers were injured in clashes Friday, as the protesters hurled rocks at police and paramilitary soldiers who tried to stop them from marching through Manzgam, police said.
Government forces fired tear gas and swung batons to disperse the swelling crowd, according to an officer who spoke on condition of anonymity because he was not authorized to speak with media.
Officials braced for the violence to spread in Kashmir, which is split between Indian and Pakistani control while claimed in full by both countries.
Local separatists have been fighting since 1989 for independence from India or merger with Pakistan. More than 68,000 people, most of them civilians, have been killed in the armed uprising and subsequent Indian crackdown.