Prosecutors Drop Fraud Case Against Former Leader Of Border Agents' Union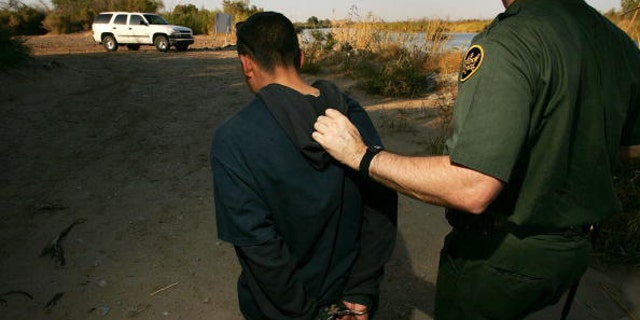 SAN DIEGO (AP) – Terence J. Bonner was a fixture on cable television and at congressional hearings for years, using his position as longtime head of the Border Patrol agents' union to assail government policies. He used the same aggressive style to confront federal charges that he defrauded the union out of hundreds of thousands of dollars.
Federal prosecutors on Tuesday dropped nine counts of conspiracy and fraud against the 60-year-old former president of the National Border Patrol Council after a series of pretrial setbacks, including a ruling that that they could not use pornographic images and other evidence seized from computers in Bonner's home.
Bonner, who has vigorously maintained his innocence, was as defiant Tuesday as he was when charges were filed in August 2012. He called the prosecution "pure political retribution" and a vendetta for his outspoken stands against immigration and law enforcement policies.
"It was a message they were sending against anyone who speaks out against the policies of the government," he said.
Prosecutors accused him of submitting expense vouchers for meals, car rentals, luggage, books and other activities when he was traveling for personal reasons. The indictment said his false claims cover periods when he was visiting a mistress in Chicago, his family, hockey games and other sporting events unrelated to the union.
Prosecutors refiled charges in September after U.S. District Judge William Hayes ruled much of the evidence inadmissible, dropping accusations that Bonner claimed to be working on union issues while downloading pornography on his computer. The judge scheduled an evidentiary hearing only five days before Bonner was to go on trial last week.
The two-day hearing to further consider what evidence would be allowed was scheduled to begin Wednesday and was to include questioning and cross-examination of witnesses. Bonner's attorney, Eugene Iredale, planned to argue that the case rested on evidence that was obtained outside the scope of a search warrant executed in March 2012 at Bonner's home in Campo, about 60 miles east of San Diego.
Bonner, widely known as T.J., said the judge's decision to order the hearing was the prosecution's "death knell."
"They were in checkmate," he said. "They never had a case from the very beginning."
The U.S. attorney's office in San Diego said it disagreed that evidence was obtained improperly but that the pretrial rulings prompted it to ask the judge to dismiss the case.
"The grand jury found probable cause that Mr. Bonner had committed the offenses set forth in the indictment," said U.S. Attorney Laura Duffy. "From time to time in criminal cases certain evidence is suppressed for legal or technical reasons. We respect the process and the court."
Bonner was the union's president from 1989 until he retired in 2011 — a period of major growth in U.S. border enforcement. The indictment says he represented more than 14,000 agents and other employees who paid monthly dues of $56 to the union, which is part of the American Federation of Government Employees and AFL-CIO.
"This case has consumed my life in all of my waking moments and caused me many sleepless nights," he said. "It has taken an emotional and financial toll on me and pushed me to the edge of bankruptcy. You wonder what it is wrong with our system of justice."
The current leadership of the National Border Patrol Council, which represents most of the country's more than 20,000 border agents, has distanced itself from Bonner, saying after charges were filed that it adopted tighter internal controls.
Follow us on twitter.com/foxnewslatino
Like us at facebook.com/foxnewslatino