Prosecutor seeking arrest, extradition of ex-President of Peru Alejandro Toledo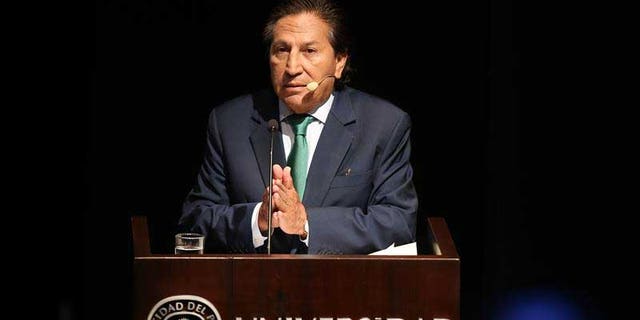 The prosecutor investigating the case of bribery against Brazil's giant Odebrecht conglomerate in Peru will ask for the preventive detention of former President of Peru Alejandro Toledo for suspected influence peddling and money laundering.
The announcement by Attorney General Pablo Sanchez came after the AG's office announced Monday night that a case had been opened against him.
A judge is expected to determine very quickly what measures will be taken against the ex-president, who ruled the South American country between 2001 and 2006.
PERU: BRIBES BY BRAZILIAN BUILDER COST COUNTRY $283 MILLION
Given that Toledo is currently in France with his wife, these measures could include an international search and capture warrant.
On Monday night the AG's office reported that it has opened a criminal investigation against Toledo and Jorge Barata, ex-director of Odebrecht in Peru, and Josef Maiman, a friend of the ex-president who acted as his front man.
According to the AG's office, Barata will be accused as the primary accomplice in money laundering and Maiman as the mastermind of that crime.
Toledo is the first eminence of Peruvian politics accused of receiving bribes from Odebrecht, which occurred after Barata confirmed to prosecutors in Brazil and Peru that Toledo had pocketed $20 million in kickbacks.
BRAZIL'S 'CAR WASH' PROSECUTOR SAYS CORRUPTION PROBE TO GROW
For that money, Odebrecht was guaranteed the concession for laying the Interoceanic Highway.
In Peru, Odebrecht paid some $29 million in kickbacks to officials between 2005-2014, years that included the governments of Toledo, Alan Garcia (2006-2011) and Ollanta Humala (2011-2016), as can be deducted from an agreement signed by the company with the U.S. Justice Department.