Portugal wildfire rages as death toll hits 63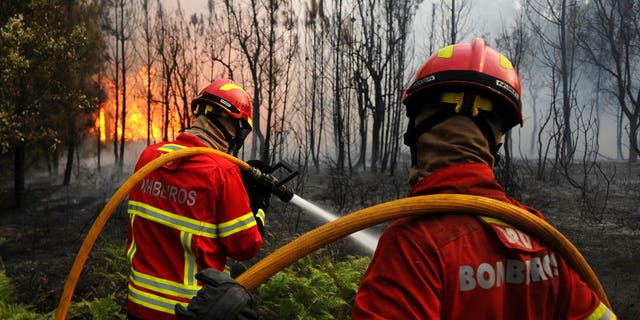 NEWYou can now listen to Fox News articles!
The death toll in Portugal has risen to 63 following a massive wildfire Saturday night in the central area of the country.
The latest victim, an injured firefighter who died in the hospital, was one of four firefighters who were hospitalized since early Sunday due to serious burns received when putting out the flames, according to a Portuguese firefighter group.
PORTUGAL, A COUNTRY HELPLESSLY PRONE TO FOREST FIRES
Twenty-five of the victims had been identified by Monday afternoon and authorities are continuing to work to identify others, Portugal's Interior minister said.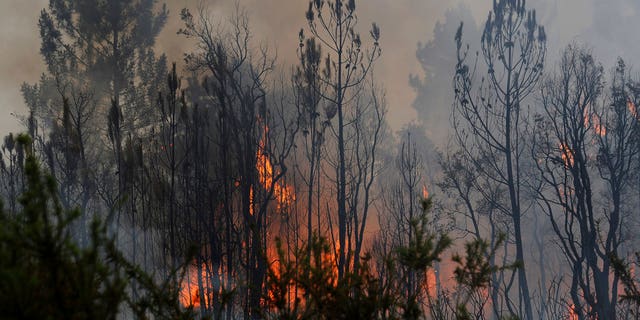 Cooler temperatures Monday helped firefighters and soldiers bring some blazes associated with the wildfire under control, but some fires are still raging about 90 miles northeast of Lisbon in inaccessible areas.
The country is observing three days of mourning for those who have died in the wildfire, which is the deadliest recorded in Portugal's history.
An environmental lobbying group in Portugal blamed Saturday's fire on "forest management errors and bad political decisions" by governments in recent decades. The group cited the decision by authorities to permit eucalyptus to be planted. The plant, the country's most profitable species, is often blamed for starting fires.
HOW TO PREPARE FOR WILDFIRES SO YOU CAN ESCAPE SAFELY IF A BLAZE APPROACHES
The country is prone to forest fires, and between 1993 and 2013, Portugal recorded more wildfires than Spain, France, Italy or Greece, even though it is smaller than any of those countries, according to a report last year by the European Environment Agency.
The Associated Press contributed to this report.