Pope Francis draws ire after comment about sex-abuse victims in Chile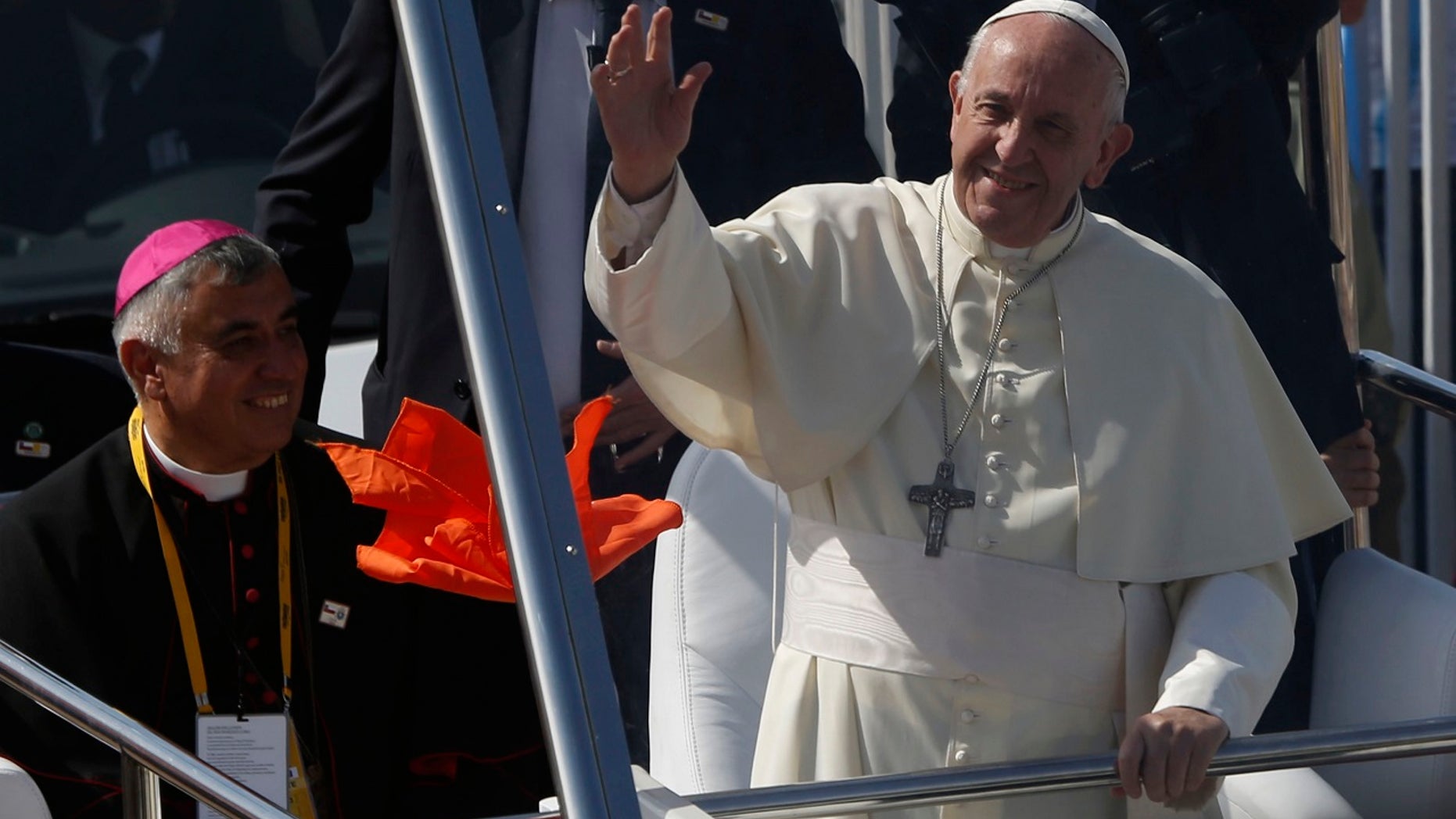 What began as a trip to help mend the scars of a sex-abuse scandal that cost the Catholic Church some of its credibility in Chile, took a surprising twist on Thursday after Pope Francis accused the victims of slander.
Francis addressed the accusations against Bishop Juan Barros that claim he was complicit in covering up the alleged sex crimes committed by Rev. Frenando Karadima.
"There is not one shred of proof against him. It's all calumny," Francis said in defense of Barros.
The pope's comment drew criticism from Chileans across the South American country that has seen protests and a level of hostility unheard of in modern times for a papal visit, even though he was greeted by large crowds and cried with sex abuse victims.
Anti-pope protests had to be broken up with tear gas, attackers burned at least 11 Roman Catholic Churches and pamphlets were found threatening Francis that the "next bomb would be in your cassock."
"This kind of violence during a papal visit is absolutely unprecedented. And Chile is historically a very solidly Catholic nation," said Andrew Chesnut, the Catholic Studies chair at Virginia Commonwealth University.
The comments about Barros appeared to—at least in part-- undermine Francis' initial intent of the trip, which was to ask for forgiveness from abuse victims for the crimes of church pastors.
Victims' advocates said the accusations were credible enough for the Vatican to sentence Karadima to a lifetime of "penance and prayer" in 2011, as well as a Chilean judge to determine that the accusations were credible. She had to drop criminal charges against Karadima because too much time had passed.
"As if I could have taken a selfie or a photo while Karadima abused me and others and Juan Barros stood by watching it all," tweeted Barros' most vocal accuser, Juan Carlos Cruz. "These people are truly crazy, and the pontiff talks about atonement to the victims. Nothing has changed, and his plea for forgiveness is empty."
Karadima's victims reported to church authorities as early as 2002 that he would kiss and fondle them in the swank Santiago parish he ran, but officials refused to believe them. Only when the victims went public with their accusations in 2010 did the Vatican launch an investigation that led to Karadima being removed from ministry.
The emeritus archbishop of Santiago subsequently apologized for having refused to believe the victims from the start.
Francis reopened the wounds of the scandal in 2015 when he named Barros, a protege of Karadima, as bishop of the southern diocese of Osorno. Karadima's victims say Barros knew of the abuse, having seen it, but did nothing. Barros has denied the allegations.
His appointment outraged Chileans, badly divided the Osorno diocese and further undermined the church's already shaky credibility in the country.
And on Thursday, he struck a defiant tone when asked by a Chilean journalist about Barros.
"The day they bring me proof against Bishop Barros, I'll speak," Francis said.
The Associated Press contributed to this report