Police station, schools attacked in north Nigeria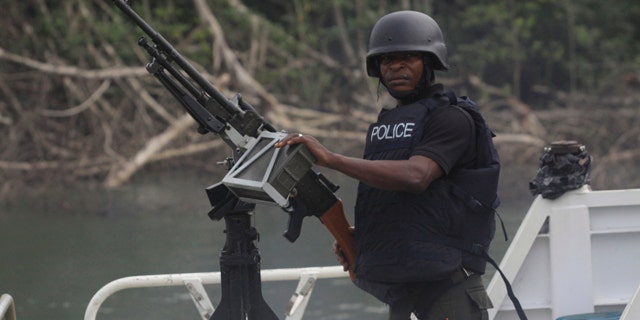 MAIDUGURI, Nigeria – Smoke hovered over uniformed students frolicking in a playground Tuesday, hours after assailants set their school ablaze and destroyed another local school, showing how commonplace violence has become in Nigeria's northeast.
Assailants attacked Gamboru Primary School just after dawn and then, just over 3 miles away, razed a newly renovated, secular coeducational school to the ground in the northeastern city of Maiduguri, said military spokesman Lt. Col. Hassan Mohammed.
He said there were no deaths and that the police were still investigating.
The attack comes two days after a man using the nom de guerre Abul-Qaqa and speaking for a radical known as Boko Haram told journalists that the sect was responsible for burning down another primary school in Maiduguri, its spiritual home, as a warning to security agencies not to raid Islamic schools.
Meanwhile, gunmen late Monday night attacked a police station and a bank in a northeastern town close to the city of Bauchi where Boko Haram launched a massive prison break in September 2010, freeing about 700 inmates.
This latest attack occurred in Jama'are about 125 miles from Bauchi, killing a policeman and wounding another, said Aliyu Suleiman, a town official.
Habibu Adamu, a Jama'are resident, said he heard multiple blasts coming from different directions at about 10 p.m. Monday, followed by gunshots that lasted for at least an hour.
A search team safely detonated 12 explosive devices found in the town after the attack, Suleiman said.
Authorities declined to say if they suspect anyone.
Boko Haram, which means "Western education is sacrilege," in the local Hausa language, has carried out similar attacks across Nigeria in a campaign of killings that has left at least 313 people this year alone, according to an Associated Press count.
In parts of northern Nigeria most affected by sect violence, the Nigerian government has imposed dusk-to-dawn curfews and banned motorcycles that people once relied on in the absence of a mass transit system. Residents there live in fear of sect attacks and are subjected to numerous checkpoints, house searches without warrants and arbitrary arrests under a recently imposed state of emergency.
The government has responded to the insurgency by deploying troops to affected areas including Nigeria's northeast where the attacks have been most persistent, but the lack of intelligence data on Boko Haram's activities has crippled efforts to secure one the country's most impoverished regions.