Photographer of Brussels airport carnage says she couldn't help victims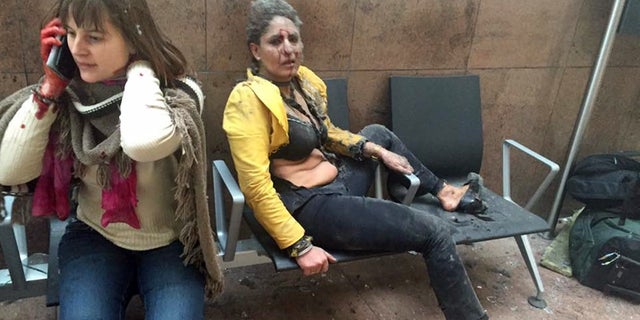 A journalist who raced to escape the chaos at the Brussels airport Tuesday said it was her "instinct" to photograph the victims, but that she couldn't risk getting them any help.
"I was the only person on my feet. I wanted to help all of them but I couldn't. I left them. I had to — we expected a third explosion," Ketevan Kardava told USA Today.
One of her photos spread quickly around the world, showing two wounded women in need of medical help. One woman's face and feet were streaked with blood. Dust and debris covered their hair.
The Georgian photographer said she panicked trying to decide whether to find a doctor or to take pictures. "In that very moment, I realized that to show the world what was happening in this moment of terror, a photo was more important," she told USA Today.
Kardava had lined up for a flight to Geneva just after 8 a.m. when, she said, something black and suitcase-shaped exploded in front of the Delta Air Lines counter nearby. She said the glass walls shattered and smoke filled the air.
"Everything was broken," she said. "We were crying, shouting, running we didn't know where."
Minutes later, amid the chaos, a second explosion sounded, she said. By then, chaos had enveloped the terminal building and she could see very little.
Security forces herded thousands of people to the back of the airport, where she said they were waiting to learn when it would be safe enough to leave.
Now, the photographer says she's not sure whether she'll ever continue her work. In the USA Today interview, she said, "We are journalists. We are fearless, right? Time will come, and it will be necessary for me to go to the same airport and leave from the same metro station where the second explosion was. How can I take the metro and go to the airport?"
The Islamic State terror group claimed credit for the bombings at the airport and a subway station in Brussels which killed more than 30 people, investigators said.
The Associated Press contributed to this report.