Passing over US, Bolivia nearly doubles land slated for coca plantation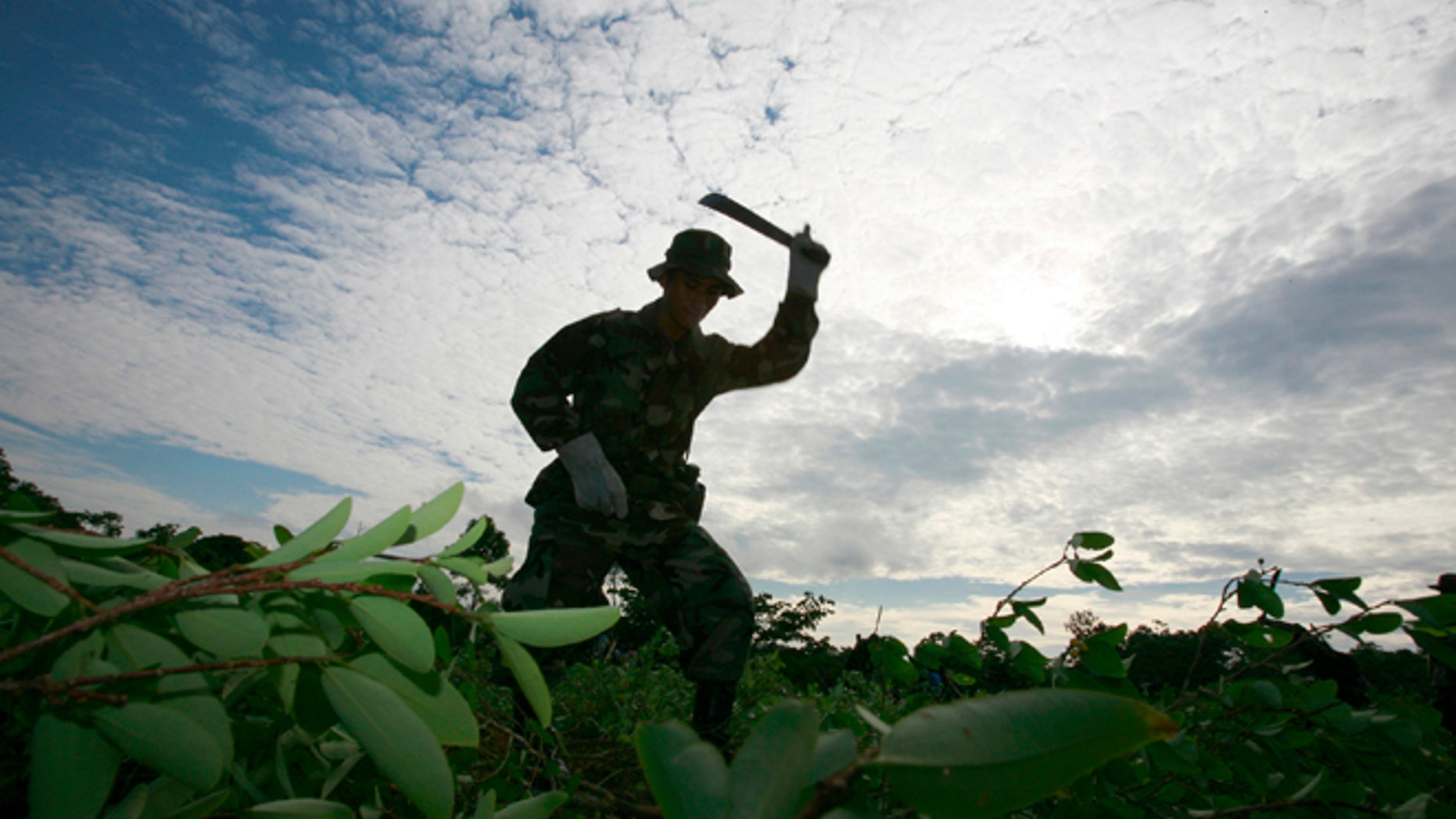 LA PAZ, Bolivia – Bolivia has doubled the amount of land that can be legally planted with coca plants, the main source for cocaine, whose raw leaf has been consumed for centuries in the indigenous communities along the Andes.
On Wednesday, President Evo Morales, a former coca grower, signed the bill into law allowing farmers to plant up to 54,000 acres in coca — up from 29,000 under the previous legislation.
Bolivia is the world's third largest cocaine producer after Colombia and Peru.
Once the new law goes in effect, Morales' government has said it wants to "industrialize" the added production, but analysts and critics fear it will be diverted to cocaine production.
BOLIVIA OPENS 'EVO MUSEUM' DEDICATED TO INDIGENOUS PRESIDENT
Opposition lawmakers are planning to sue to block the law, calling it unconstitutional because it breaches international treaties. They said it would turn Bolivia into a free-for-all for drug dealers.
"The new law will probably lead to increased drug trafficking," said Omar Barrientos, a lawyer who was involved in drafting the existing 1998 legislation, which had the backing of the U.S.
Eliminating restrictions on coca production has been a long-standing goal for Bolivia's coca growers, who were organized into a powerful union by President Morales and became his core constituency. But the law never materialized due to infighting among the different unions.
"Coca farmers unions have worked on the bill for years," said Fidel Surco, a peasant leader and a senior official in the ruling socialist party, to Fox News.
ANTI-IMPERIALISM SCHOOLING NOW A MUST FOR BOLIVIAN OFFICERS
Coca leaves have played a central role in the life of Andean communities in Bolivia and Peru for centuries. Men and women in both rural and urban environments chew leaves routinely as they go about their day, using it as a mild stimulant that suppresses hunger, thirst, pain and fatigue.
In most Bolivian cities is rare to get in a taxi at night, for example, without noticing the pungent odor of coca leaves being chewed by the driver.
Coca leaves are also brewed as tea, promoted as an ingredient for nutritional products and used in cosmetics, shampoo and toothpaste that are sold at "coca boutiques."
Government officials have elevated coca to cult status, calling it "sacred," and have proposed displaying it on Bolivia's national flag.
One minister has suggested serving coca leaves with school breakfasts.
Morales has been campaigning for the repeal of the 1998 legislation ever since he was president of the Coca Growers Union in Cochabamba. When he took office in 2006 he promised a law to expand coca acreage. He finally delivered nine years later, and analysts say the new bill is likely to give him a boost as he seeks a fourth presidential term — he will need the support from the coca growers to get around constitutional term limits.
"Morales' desperate need to hold onto the politically powerful support for the coca growers forced him to give into their demands and risk international repercussions," said opposition lawmaker Felipe Dorado.
Morales announced the new law during a public event Wednesday as some coca farmers listened to his speech chewing on coca leaves.
"Coca beat the United States," he said.
"The United States just said that Bolivia and Venezuela failed in a demonstrable way in the war against drugs. But the only thing that can be demonstrated is that neither Bolivia nor Venezuela can submit to the United States."
The AP contributed to this report.