Paraguayan radio journalist is shot to death in crime-ridden Brazil border region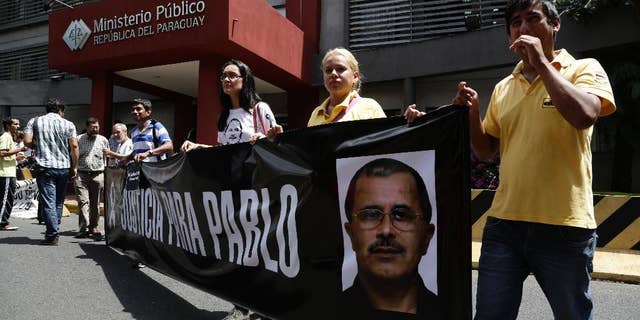 ASUNCION, Paraguay – A Paraguayan radio journalist has been shot to death in a Brazilian city bordering a crime-ridden area that is a hotbed for drugs and arms smuggling, officials said on Friday.
Gerardo Servian worked for a local radio station near the city of Pedro Juan Caballero. The 45-year-old was killed Thursday in the Brazilian city of Ponta Pora as he was shot nine times on a street by unidentified gunmen who escaped in a motorcycle, said police chief Walter Vazquez.
The victim's brother Francisco said Servian had never received death threats, and that he had recently moved to Ponta Pora because his daughters attend a school in the Brazilian city. But "in this area of the country it's normal to silence journalists with gunshots," added the brother, who is also a journalist.
Four other journalists have been killed since the start of last year while working along the porous and crime-ridden northern border with Brazil.
"The security situation in the country's northern area bordering Brazil is like something out of fiction. The state is weak. Drug dealers and other criminals set the pace throughout more than 370 miles (600 kilometers) of a lawless border," said Paraguayan political analyst Ignacio Martinez.
In a statement, Paraguay's press union said Friday that "this new assault on the life of a press worker shows the urgent need to end the impunity."
Anti-drug chief Luis Rojas has estimated more than 100 gangs, made up of Paraguayan and Brazilian drug dealers, operate in Paraguay's northern region.