Palestinian President Mahmoud Abbas Won't Run for Re-Election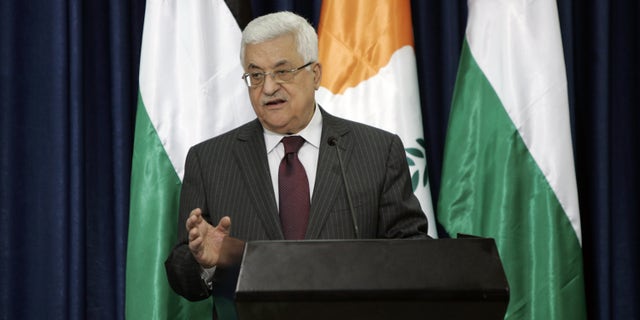 NEWYou can now listen to Fox News articles!
RAMALLAH, West Bank -- The Palestinian president offered on Wednesday to visit the Hamas-ruled Gaza Strip for the first time in four years in a bid to help reunite the rival Palestinian governments. Hamas welcomed the offer.
Mahmoud Abbas said he'd be prepared to make the trip within the coming week. Gaza's prime minister, Ismail Haniyeh, invited Abbas on Tuesday to visit following parallel rallies in Gaza and the West Bank urging the rival Palestinian leaderships to reunite.
"I declare that I am ready to go to Gaza tomorrow so as to end the split and form a new government," Abbas said in a speech before senior members of his Fatah Party.
He urged Haniyeh to make arrangements so he could arrive in Erez within the next two to four days, "so we can end this dark and dishonorable chapter of division."
Spokesman Taher Nunu said the Hamas government "welcomes the positive response of Mr. Abbas to the prime minister's initiative and the government (is) currently considering the necessary arrangements for this visit."
Hamas spokesman Fawzi Barhoum said the movement "welcomed the remarks of Mr. Abbas" and called on the government "to take all the required steps to arrange for this visit"
Abbas has offered to go to Gaza before.
But the parallel rallies on Tuesday in both West Bank and Gaza led by young disaffected Palestinians, combined with the wave of unrest sweeping through the region, has put heavy pressure on both leaders to resolve their differences. The Palestinian division is a major obstacle to their dreams to establish an independent state incorporating the West Bank and Gaza.
The Palestinian leader has not been in Gaza since Hamas militants overran the territory during a five-day civil war in June 2007, leaving him in control of only the West Bank.
Abbas' unity plan includes a call for elections within six months.
In his speech, Abbas told his Fatah allies that he would not stand for re-election -- the first time he has said so explicitly. However, it is not at all clear that elections will be held.
In January, Abbas said he would hold elections by September but he later backpedaled to say elections could not be held until the West Bank and Gaza are reconciled. Repeated efforts at reconciliation have failed.
Abbas' term expired a year ago, but he had consistently held off scheduling new elections because of turmoil inside Fatah and the growing strength of Hamas in the West Bank.