Palestinian President Abbas criticizes abduction of Israeli teens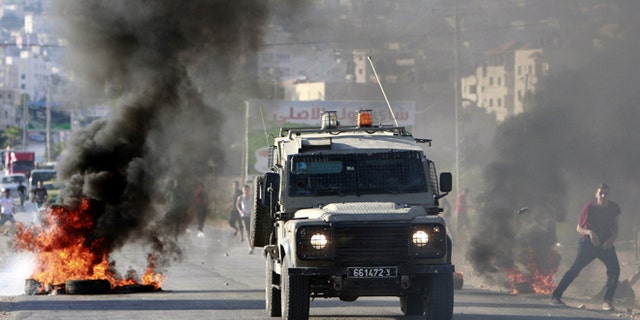 JERUSALEM – Palestinian President Mahmoud Abbas on Wednesday defended his security cooperation with Israel against widespread criticism, telling senior Arab and Muslim officials his forces are helping in the search for three Israeli teens missing in the West Bank because "these youths are human beings."
His comments were remarkable because of his audience and because security coordination is widely unpopular among Palestinians, particularly at the time of a new Israeli crackdown in the West Bank after the teens' disappearance last week.
Israel has blamed the Islamic militant group Hamas for the apparent abductions, without providing evidence, and has tried to use the episode to discredit the Palestinian unity government formed with Hamas backing earlier this month. The West considers Hamas a terrorist group, but Abbas has said he is setting the course of the unity government, not the militants.
Abbas reiterated Wednesday that he does not know who is responsible for the abductions, but said that the kidnappers "want to destroy us," an apparent reference to his self-rule government, the Palestinian Authority.
He appeared to be putting some distance between himself and Hamas in defending security cooperation and showing empathy for the missing teens. Hamas has repeatedly demanded that he halt security coordination -- which routinely targets Hamas supporters in the West Bank -- and has praised the kidnappers, while stopping short of claiming responsibility.
Abbas told the Organization of Islamic Cooperation in Jeddah, Saudi Arabia, that security coordination is a Palestinian national interest. "We don't want to go back to chaos and destruction, as we did in the second (Palestinian) uprising," he said. "I say it openly and frankly. We will not go back to an uprising that will destroy us."
In response to the disappearance of the teens, Israel has launched its most extensive military ground operation in more than five years. Thousands of soldiers have fanned out across the West Bank, searching some 800 locations and arresting 240 Palestinians, most of them activists and political leaders in Hamas, the military said Wednesday.
Abbas said the teens were seized in an area of the West Bank where Israel retains full security control and that Israel did not inform the Palestinian security forces about the incident for more than 12 hours.
"Still, we continue our security cooperation in order to get to these youths," Abbas said. "In the end, these youths are human beings, and we want to protect human lives."
He accused Israeli Prime Minister Benjamin Netanyahu of exploiting the abductions "to oppress us and destroy everything and create chaos."
"No matter what, we are still looking and searching to find out who carried out such an act," Abbas added.
Security cooperation was strengthened after Hamas seized the Gaza Strip from Abbas in 2007, leaving him only in control of the autonomous areas of the West Bank.
In response to the Gaza takeover, Abbas launched a crackdown on Hamas in the West Bank, to prevent a Hamas-led coup there. In the past seven years, forces loyal to Abbas have shut down many Hamas-linked charities and schools and have tried to dry up sources of Hamas funding.
Israel, meanwhile, said it is using the search for the missing to deliver a painful new blow to the remaining Hamas infrastructure in the West Bank. In addition to the arrests, Israeli troops raided 10 civil institutions allegedly linked to the group, said an army spokesman, Lt. Col. Peter Lerner.
Among Israel's targets were two offices of a private company, Transmedia, which said it provides services to about a dozen broadcasters, including the Hamas-linked Al-Aqsa TV channel. Troops raided Transmedia offices in the West Bank cities of Hebron and Ramallah early Wednesday, said Amer Jaberi, an owner of the company.
Jaberi said soldiers seized equipment, including cameras. In Ramallah, soldiers welded shut the entrance door of the office. Jaberi said his company has no links to Hamas and would go to court to retrieve his equipment.
Meanwhile, Israel troops arresting Hamas activists focused on a new group Wednesday -- those released in a 2011 swap for an Israel soldier, Gilad Schalit, who had been held by Hamas-allied militants in Gaza for five years.
In the night from Tuesday to Wednesday, soldiers re-arrested 51 Hamas activists who had been among 1,027 Palestinians released in the Schalit deal, Lerner said.