Palestinian murder suspect allegedly sent coded TV message to imprisoned brother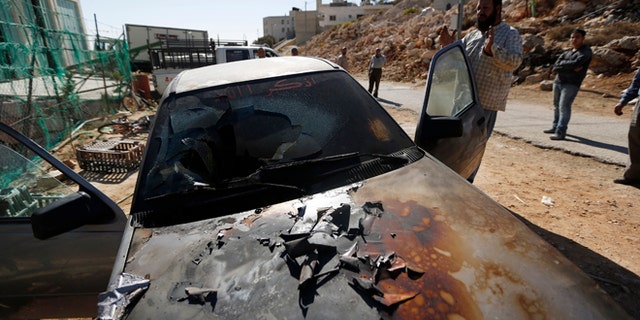 A Palestinian facing charges in the murder of an Israeli soldier communicated secret messages to his imprisoned brother via a government-run television show, according to prosecutors.
The message was delivered in May 2013 by a news reader on the program "For You" on the official Palestinian Authority TV channel. The program broadcasts greetings from Palestinians to prisoners in Israeli prisons.
She mentions one greeting from Nidal Amar to his brother, Nour Al-Din Amar, who has been held in an Israeli prison after his arrest in 2003 for his alleged role in a suicide bombing cell.
[pullquote]
She goes on to read, with the ease of delivering a birthday message, "The calf will soon be in the cage, and we'll celebrate the freedom of all prisoners."
Israeli authorities said in an indictment that the coded message was from Nidal Amar intended for his brother, confirming plans to kidnap an Israeli soldier and use him as a bargaining chip to broker his release, Palestinian Media Watch reported.
Nour Al-Din saw the potential for a prisoner swap similar to the 2011 Gilad Shalit exchange, The Jerusalem Post reported, citing the indictment. The Gilad Shalit deal in 2011, in which 1,027 Palestinian prisoners were freed, was the most lopsided prisoner swap in Israel's history and still touches a raw nerve in the country.
But four months after the broadcast, Israeli authorities say Nidal Amar made good on his part of the deal.
Tomer Hazan, 20, an Israeli soldier, was kidnapped and later found dead inside a well.
Nidal Amar was arrested and confessed to the killing, authorities say. He showed the Israeli forces where the body was hidden, authorities said. He was indicted last week along with another brother and is being held in custody during the legal proceedings, The Jerusalem Post reported.
The Post reported that Nour Al-Din allegedly discussed the kidnapping with other prisoners, secured funding and promised his brother money to carry out the plan. However, he had allegedly expressed hope to other prisoners that Hazan would stay alive for the deal, the report said.
Fox News' Edmund DeMarche and the Associated Press contributed to this report
Click for more from the Jerusalem Post