Pakistan frees 2 Taliban members as US envoy visits region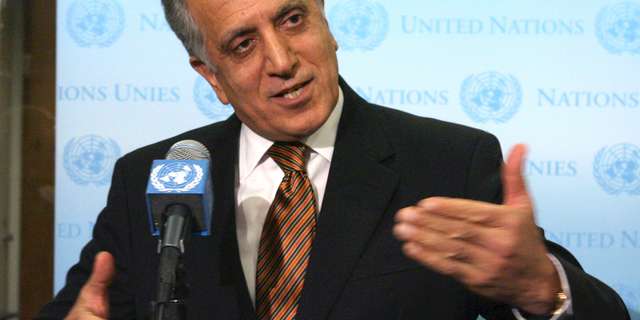 ISLAMABAD – Pakistan released two Taliban officials on Monday during U.S. envoy Zalmay Khalilzad's latest visit to the region, in what could be part of American efforts to revive peace talks with the insurgent group, which now controls nearly half of Afghanistan.
Abdul Samad Sani, a U.S.-designated terrorist who served as the Afghan Central Bank governor during the militants' rule in the late 1990s, and a lower-ranking commander named Salahuddin, were released Monday, according to two Taliban officials who spoke on condition of anonymity because they were not authorized to brief media. There was no immediate comment from the Pakistani government.
Khalilzad is on his second regional tour since being appointed, with stops in Pakistan, Afghanistan, the United Arab Emirates as well as Qatar, where the Taliban maintain a political office. The insurgents say they met Khalilzad in Qatar last month. Khalilzad arrived in the region last Thursday and will return to Washington on Nov. 20.
When Khalilzad was last in the region Pakistan released another Taliban leader, Abdul Ghani Baradar, one of the founders of the radical religious movement. Baradar was arrested in 2010 in a joint U.S. and Pakistani operation. At the time, it was reported Baradar was taken into custody by Pakistan after he tried to open independent peace talks with Afghanistan's then-president, Hamid Karzai.
In a recent interview, Karzai told The Associated Press he had repeatedly tried to secure Baradar's release but he was thwarted by both Pakistan and the U.S., who wanted him detained because of his stature within the Taliban.
Baradar's release has been a long-standing demand of the Taliban.
Efforts to find a peaceful end to Afghanistan's protracted war have accelerated in recent months, as a troop surge announced by President Donald Trump last August has done little to change conditions on the ground. In recent months the Taliban have carried out near-daily attacks on Afghan security forces as well as coordinated assaults on major cities.
The Taliban have long demanded direct talks with the United States, referring to the Kabul government as puppets. Washington has neither confirmed nor denied a meeting between Khalilzad and the Taliban took place last month.
Taliban officials present at the meeting characterized those talks as productive. They said they pressed to have their office in Qatar recognized and agreed to meet again, although no date was set.
Afghanistan's fractious government, which is jointly headed by President Ashraf Ghani and Chief Executive Abdullah Abdullah, has been prickly about direct talks between Washington and the Taliban.
In addition to the three Taliban figures recently freed by Pakistan, five senior members of the Taliban who were freed from the U.S. military prison at Guantanamo Bay in 2014 in exchange for captured U.S. Army Sgt. Bowe Bergdahl have joined the insurgent group's political office in Qatar.
The induction of the five has significantly strengthened the ability of the Taliban's Qatar office to sell a peace deal to insurgents on the battlefield.
Sani's release further reconstitutes the Taliban leadership. Sani was placed on the U.S. terrorist list in January, accused of supplying the Taliban with weapons as well as being a major financier travelling to the Gulf to obtain both money and supplies for the insurgent movement.