Pakistan arrests anti-government protesters in capital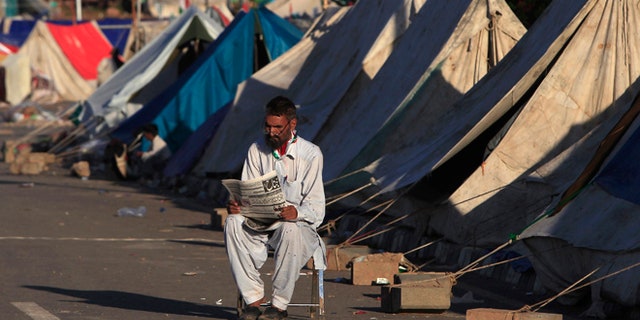 Pakistani police arrested anti-government protesters in what activists said was an effort to crack down on weekslong sit-ins in the capital, while the government said police only apprehended suspects in a recent attack on state-run TV.
The party of famed cricketer-turned politician Imran Khan, who is leading one of two major protests demanding the government's resignation, said a large number of party activists were detained in overnight raids beginning late Friday in Islamabad and elsewhere. He did not provide an exact number.
"We are suspending talks with the government over these arrests," party leader Jehanghir Tareen told a news conference.
Anti-government cleric Tahir-ul-Qadri, who has been leading parallel demonstrations, said police had also detained his supporters, and that he too would be suspending talks over the arrests.
Pakistani news channels had earlier showed several detained supporters of Qadri and Khan arriving at a local court in two prison vans. Khan's party leaders and dozens of activists briefly clashed with police as they tried to break the locks of the vans to free the detainees.
Police eventually pushed them back, and Islamabad police chief Tahir Alam warned that anyone attacking the police vans would be arrested.
Khan and Qadri arrived in the capital last month in massive convoys that had set out from the eastern city of Lahore. Since then thousands of demonstrators have been camped outside parliament demanding that Prime Minister Nawaz Sharif resign over alleged voting fraud in last year's election.
The protesters remained peaceful until August 30, when they tried to storm the prime minister's residence, prompting police to fire tear gas and rubber bullets. Three people were killed in the melee and hundreds more were wounded.
On Sept. 1, the demonstrators stormed Pakistan Television, briefly forcing the channel off the air.
On Saturday, Pakistan's Interior Minister Chaudhry Nisar Khan said police arrested only those involved in the attack on Pakistan Television and other government buildings. He urged Khan and Qadri to continue negotiating an end to the standoff.
Khan and Qadri have said they will not end their protests until Sharif resigns. Pakistan's parliament unanimously rejected their "unconstitutional demand" after Khan's party, the third largest political bloc, quit the assembly.
Sharif was forced from office after a previous stint as prime minister in 1999, when the then-army chief Pervez Musharraf seized power in a coup.
Elsewhere in Pakistan, a powerful car bomb exploded in a bazaar in the southwest, killing at least three people and wounding 24 others, police said.
Senior police officer Abdur Razzak Cheema said the attack took place when a vehicle carrying security forces was passing through the market in Quetta, the capital of southwestern Baluchistan province.
The dead included a paramilitary soldier and two civilians, he said.
Baluchistan is Pakistan's largest province and has been the scene of a low-scale insurgency for several years.
Separatists in the region are pressing the federal government to more equitably share the revenues from gas and oil extracted from the province.