Outrage in Argentina after two priests are detained for allegedly abusing deaf kids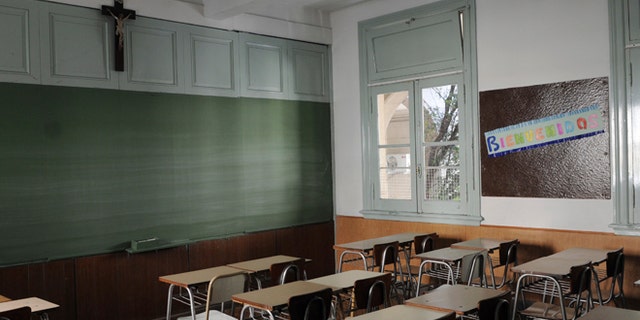 "This is like opening Pandora's Box," is how one prosecutor, Alexander Gullé, described the investigation into allegations of sexual abuse of deaf children at a Catholic school in Argentina's Mendoza province.
"Every minute," he told reporters, "we see different circumstances, different facts ... I am frankly embarrassed about the direction in which the investigation is taking us."
The case that Gullé is talking about is one in which a priest who years ago had been accused of sexually abusing deaf children in Italy – but was not sanctioned by the Vatican – allegedly went on to abuse children in Pope Francis' native Argentina.
Earlier this week, Mendoza police arrested the now 82-year old priest Nicola Corradi, along with priest Horacio Corbacho, 55, and three other men. They all worked at the Antonio Próvolo Institute, a school for youths with hearing disabilities in the northwest of the country.
Fabricio Sidoti, the chief investigating prosecutor, said they were accused of abusing at least eight children, fondling them and subjecting them to various forms of sexual intercourse over a decade.
BishopAccoutability.org, an online resource about clerical abuse, reported that Italian survivor groups told the Vatican in 2008 and 2014 about Corradi and others accused of molesting children at a school for the deaf in Verona.
"Words fail. It is appalling and heartbreaking that Corradi was not stopped by Pope Francis or by other Church authorities. Corradi's presence at the school in Mendoza was no secret," said Anne Barrett Doyle, co-director of Bishop Accountability.
"Thanks to the Church's inaction, Corradi appears to have been able to replicate exactly the grotesque situation he enjoyed in Verona – a ring of child molesters in charge of utterly defenseless children who could neither hear nor speak," she added. "If the allegations are true, the Pope must accept responsibility for the unimaginable suffering of these new victims."
The government of Mendoza suspended classes at the institute; it also banned faculty and staff from having any contact with students.
The abuse allegations surfaced after a complaint by provincial lawmaker Daniela García, who spoke to a witness through an interpreter.
Authorities are taking testimony from students as well as parents who suspect their children were abused at the school.
The Mendoza archbishop's office has expressed solidarity with the victims and said it is cooperating with authorities.
Based on reporting by the Associated Press.