Outcry at Miss South Africa's gloves in greeting black kids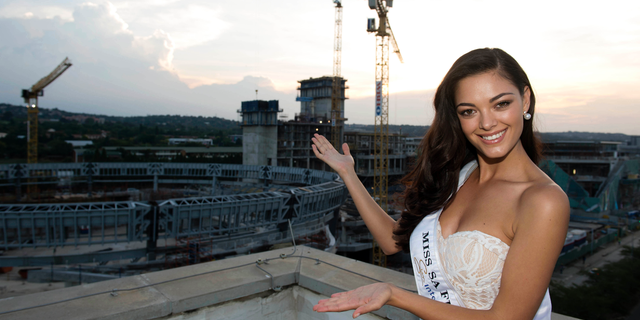 JOHANNESBURG – A beaming Miss South Africa was photographed with children at a soup kitchen in what was supposed to be a feel-good charity event. But she ended up fending off accusations of racism for wearing gloves while interacting with black children.
Beauty pageant winner Demi-Leigh Nel-Peters, who is mixed-race, posted a video this week in which she said she and other volunteers wore disposable gloves at the event in the Soweto section of Johannesburg because they wanted to be hygienic.
"We thought it was the right thing to do, seeing as we were working with food," 22-year-old Nel-Peters said. The Miss South Africa organization said in a statement that Nel-Peters did not wear disposable gloves throughout the visit.
Race remains a sensitive issue in South Africa, where white minority rule ended in 1994.
Ikageng, the community center where the soup kitchen was set up, helps orphans and other vulnerable children, including some who are HIV positive.
One Twitter user said: "I really can't believe 'our' Miss SA is wearing latex so that she can touch these kids!!"
Another person posted photos of Nel-Peters preparing food at a different event, noting that she was "peeling potatoes without gloves for white folks."
Nel-Peters made local headlines last month when she reportedly escaped from her vehicle while being accosted by three armed thieves on a main road in Johannesburg. The episode prompted South Africa's police minister to reiterate a commitment to fight crime against women.
___
Follow Christopher Torchia on Twitter at www.twitter.com/torchiachris