Our American Dream: Rolando Nichols Shows that Latinos Can Not Only Own the Cameras, but the Studios, Too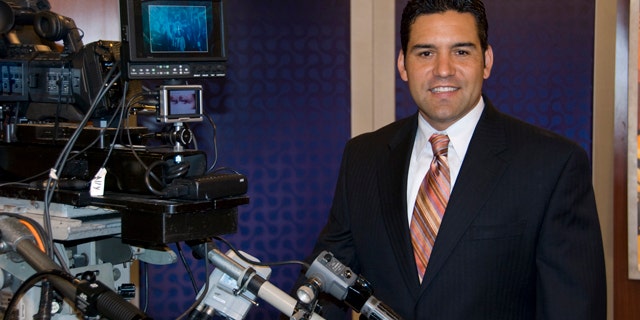 Across the United States, in all fields of endeavor, Latinos are working to uphold their place in American society. Fox News Latino is proud to present "Our American Dream," a series of snapshots and profiles of Latino success stories.
Latinos in media are becoming more influential in an industry where they were once glaringly absent.
Nowadays, "as Latinos we can own not only the cameras, but the studios," said Rolando Nichols, a well known journalist in Los Angeles and now a successful media entrepreneur who left a privileged position in Spanish media to achieve his very own American dream: create his own media production company, Centro Net Productions, based in Torrence, California.
Four years ago, Nichols went from being one of the most recognized faces in Spanish-language TV in Los Angeles while working as a news anchor for major station KMEX- Univision 34, to starting his own business with only one dream, a lot of hard work and the support of friends and family.
"They were my only investors at the time," recalled the journalist. "I never had the support from investors. It's been established only with a lot of passion and much of hard work."
At the beginning, the company focused on offering training for media professionals.
Later, when he acquired the state of the art studios located in the South Bay area of Los Angeles, Nichols started offering production services to clients such as its own former employer Univision Network, Fox Sports, ESPN, and KWHY Canal 22, a local- Hispanic owned -TV station and his main client.
"Most of my relatives in Hermosillo, Mexico and here in the U.S. own some kind of business. Therefore, there was a time when I got tired of making wealthy people even richer with my talent and I thought that it was time for me to create a business for my own financial stability and to provide jobs to other families as well," he said.
Currently, Centro Net Productions employs almost 30 full time employees and many other part-time and freelance media professionals.
"They are the ones who made my dream possible. They believed in me from the beginning and brought a unique set of talents to the company, the Latino talent," said Nichols, a graduate from Arizona State University Walter Cronkite School of Broadcasting.
As a journalist, Nichols achieved in a short period of time what most journalists aspire to accomplish: credibility and exposure. For more than a decade, he was the main anchor for Univision's flagship station, KMEX Univision 34, the station with the highest ratings, not only in Spanish television but among the general Los Angeles market.
In 2008, Nichols was the network's correspondent in covering the death of Pope John Paul II in Vatican City. He and his team eventually won the Peabody Award for this journalistic work.
But his privileged position in broadcast news, never stopped him for thinking big.
"You have to dream big and fight for it. As Latinos we can do more than just doing small jobs, we can own all types of businesses, including a production company like I do. Even when people don't believe you can," said Nichols.
"I struggled a lot when I needed to borrow money from the banks to start the business. They - the bank loan officers- told me that it was a crazy idea to open a production company, because we, Latinos, only open restaurants or gardening businesses."
Fortunately, with assistance from the Small Business Association (SBA), a branch of the federal government, the office granted Nichols a start-up loan of $866,000.
Soon after Centro Net Productions was producing TV commercials, corporate videos, and other major production projects such as live productions for KWHY Canal 22, Con Chile y Limon and Mundo Deportivo Polemico, an entertainment and sports show respectively.
KWHY Canal 22, owned by NBC Universal for several years, was acquired early this year by The Meruelo Group, a Hispanic-owned investment company based in Downey, Ca, that began producing original programming thanks to Centro Net's services.
"Nichols has been someone very key to the success of KWHY. He's someone we admire for all the success that he has as a Latino business owner," said Xavier Gutierrez, President and Chief Investment Officer of The Meruelo Group.
"The product that he's been able to produce for us is very compelling and the audience has enjoyed it. He's in the same link with us as a business owner, he understands the challenges and the opportunities," he added.
Centro Net's studios offer complete state of the art production equipment including optical fiber for live transmission in HD anywhere in the world, giant green screens and editing rooms. "But most importantly, we count premier human talent, all of our employees are experienced media professionals," said Nichols.
"We have everything to compete at the same level than any other studio in Hollywood or Burbank," said Nichols. Currently, he is in conversations for the production of a potential upcoming film.
As the president and CEO of Centro Net's, Nichols is aware of his strong competitive advantage.
"We have become a very accessible option of production for those companies that cannot afford to hire the services of Studios in Hollywood, particularly in this economic recession," he said. "I want those clients. I can offer them the same quality of production at less cost, because my Studios are not in Hollywood but in the South Bay, but I have the same resources."
"My goal is to add more clients from the film industry in Hollywood," said Nichols, who still finds the time to be the Spanish-language broadcaster for the baseball team Los Angeles Angels of Anaheim on ESPN Deportes Radio, along with being a loving husband to his wife Wendy and a dedicated father to his three children.
Esmeralda Fabian is a freelance reporter for Fox News Latino.
Follow us on twitter.com/foxnewslatino
Like us at facebook.com/foxnewslatino