Officials confirm deaths in Nigeria school collapse
Officials in Nigeria have confirmed that people have died in the Wednesday collapse of a three-story school building in the capital, Lagos.
Emergency official Shina Tiamiyu declined to give exact numbers to The Associated Press, saying the emphasis was on finding survivors. Lagos state's deputy governor, Idiat Adebule, told the Vanguard newspaper that it was too early to give a death toll.
The BBC, citing emergency officials, reported that at least 10 people had died in the collapse, but did not say how many were children.
Workers have pulled more than 40 people, dead and alive, from the ruins. Dust-covered children, some moving and some still, were rushed to waiting ambulances throughout the afternoon and evening. One man pressed his hands to a passing survivor's head in blessing.
At one point, the watching crowd was jubilant when searchers found a man alive. An hour later, the crowd stilled when a body was carried by.
Some witnesses estimated there were as many as 100 children in the school building at the time of the collapse. The school was on the top floor of the building in Ita Faji on Lagos Island, Nigeria's commercial capital and a city of some 20 million people.
Rescue efforts were expected to continue through the night Wednesday.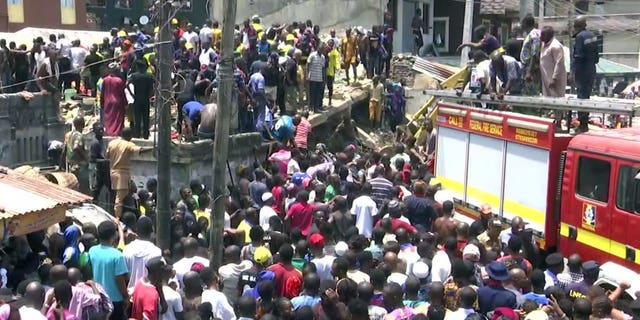 MAN NARROWLY AVOIDS FALLING BRICKS AS HE WALKS PAST COLLAPSING BUILDING
It was not immediately clear why the building collapsed. Such disasters are all too common in Nigeria, where new construction often goes up without regulatory oversight and floors are added to already unstable buildings.
Lagos state Gov. Akinwunmi Ambode said buildings in the neighborhood, Ita Faji, should have undergone integrity tests but landlords resisted.
Hundreds of people stood in narrow streets and on rooftops of rusted, corrugated metal, watching rescue efforts. A yellow excavator scooped at the ruins of rebar and dust. Later it nosed at concrete slabs.
With emotions high, a number of shirtless men jumped in to offer assistance, hacksaws and mallets in hand. Some were barefoot. Some were bare-handed. One held a water bottle in his teeth.
RESCUE OPERATION IN ISTANBUL AFTER 8-STORY BUILDING COLLAPSES, KILLING ONE, TRAPPING OTHERS UNDER RUBBLE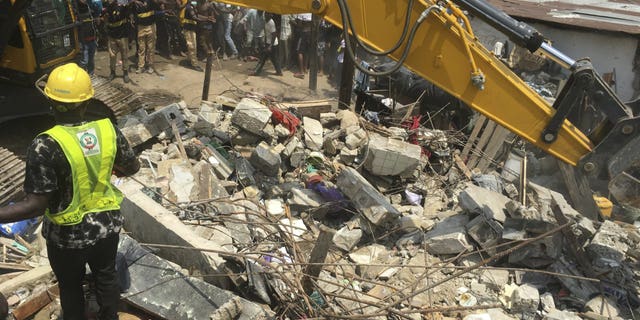 The collapse came as President Muhammadu Buhari, newly elected to a second term, tries to improve groaning, inefficient infrastructure in Africa's most populous nation.
"Nigeria's infrastructure is generally less than half the size than in the average sub-Saharan Africa country and only a fraction of that in emerging market economies," the International Monetary Fund has noted.
"The perceived quality of the infrastructure is low."
CLICK HERE FOR THE FOX NEWS APP
"It touches one to lose precious lives in any kind of mishap," Buhari said Wednesday, "particularly those so young and tender."
Over 100 people died in 2016 after a church roof collapsed in the south of Nigeria.
The Associated Press contributed to this report.