Official: Afghanistan to Void Some 1 Million Votes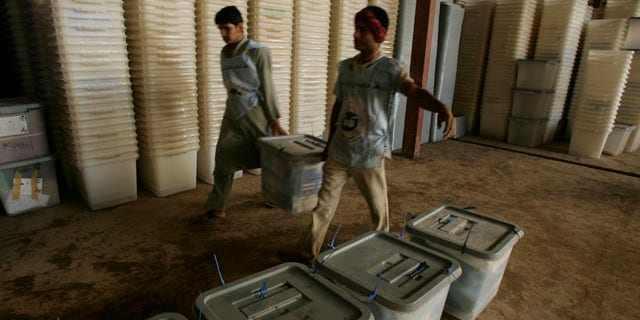 KABUL, Afghanistan -- Afghan election officials plan to throw out about 1 million ballots from last month's parliamentary election -- eliminating about 23 percent of the votes due to fraud, a Western official said Tuesday.
A fraud-marred presidential election last year nearly derailed international support for President Hamid Karzai, turning this year's poll into a test of whether the government is committed to reforms seen as key for justifying NATO funding and troops.
One of the largest criticisms of the election commission last year was that it abandoned its own fraud-detection measures part way through the process, dumping obviously fraudulent ballots into the tally to help Karzai avoid a runoff with his top challenger. It was only after drawn-out investigations that more than a million ballots were thrown out -- the majority of them for Karzai.
So the disqualification of a large number of ballots from the Sept. 18 parliamentary vote shows that the commission is sticking to its rules, though it does not necessarily mean Afghans will see the result as fair.
Full preliminary results are expected Wednesday after being delayed twice while election officials in the capital combed through messy tallies from 34 provinces. About 2,500 candidates were vying for 249 parliamentary seats.
"The suspicion of Afghans is that it will be uneven and the disqualifications won't so much affect local power holders or those that are linked to the government," said Martine van Bijlert, the co-director of the Afghanistan Analysts Network, a Kabul-based think tank.
The Afghan election commission previously said it was disqualifying ballots from 571 polling centers and recounting results from another 1,177 centers but did not provide any figures of the number of ballots involved.
The recounts have now been finished and about 1 million votes have been disqualified, according to the Western official, who was close to the process but spoke on condition of anonymity because the information had not been formally released. About 4.3 million ballots were cast countrywide.
Commission officials did not return several phone calls seeking comment.
A commission spokesman, Noor Mohammad Noor, said Monday that votes were being disqualified if polling centers recorded more ballots cast than were sent to polling stations, or if centers showed 95 percent of ballots cast for one candidate.
The disqualification of the ballots is only one step in the dispute over the election results. Fraud investigators still need to rule on more than 2,000 complaints considered serious enough to affect results before they can be finalized. Those decisions are not expected until the end of October at the earliest.
The election commission has also told investigators to look into allegations that 200 candidates may have cheated or been responsible for misconduct on election day.
One of the major worries about throwing out so many votes is that it will inflame ethnic tensions in provinces where different ethnic groups already have an uneasy relationship.
Early projections for Ghazni province, for example, show that nearly all the seats will go to members of the Hazara ethnic group, leaving out the large Pashtun population, according to the official. The insecure Pashtun areas already suffered from very low turnout.
And there's a sense that the election -- carried out amid rocket attacks and Taliban takeovers of some polling sites -- was just as chaotic as a year ago. Van Bijlert said the Independent Election Commission, or IEC, reformed its management but not necessarily enough of its staff in the provinces.
"There's been this sort of optimistic spin almost that the IEC did much better, because the IEC at the central level showed itself to be quite competent. I think at the local level it was largely out of their control," she said.
Though partial results have been trickling in for weeks, some of the country's most turbulent provinces have posted few or no official results -- a suggestion that the tallies coming in were problematic. Officials had posted full results for only one province -- relatively peaceful Panjshir -- by late Tuesday. Volatile Nuristan province in the east had posted no results.