Officer Ramos' family grieves, chooses to forgive his senseless murder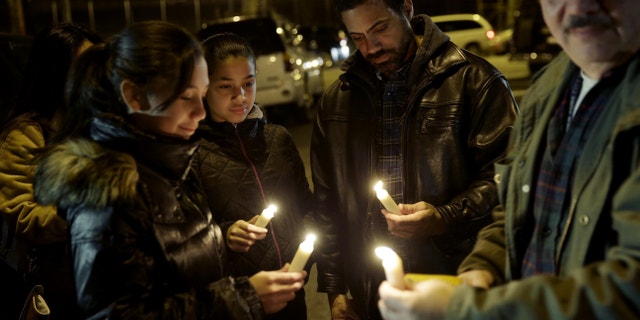 NEWYou can now listen to Fox News articles!
"Today is the worst day of my life."
This chilling message is on the Facebook page of 13-year-old Jaden Ramos.
He is the son of the fallen New York City police officer, Ralph Ramos, who was shot to death in Brooklyn on Saturday.
"Today I had to say bye to my father. He was there for me everyday of my life, he was the best father I could ask for. It's horrible that someone gets shot dead just for being a police officer. Everyone says they hate cops but they are the people that they call for help. I will always love you and I will never forget you. RIP Dad."
Officer Ramos leaves behind two sons. The oldest is in college and depends on his father's income to supplement tuition. Their dad is described as a hard worker, an amazing father and husband and a man of faith.
He was raised by his grandmother on Essex Street in Brooklyn - in the same home where the vigil for friends and family was held on Sunday night. The grandmother was unable to attend because she was rushed to the hospital when she heard the news.
We did speak with other family members, including a cousin, Richard Rodriguez, who says Officer Ramos was his role model.
"He was an awesome person. I couldn't even describe him. I don't cry because every time I think about him he brings joy to my heart. He was an awesome guy. I keep using the word and I don't want to use it in the same conversation as him being God. But he has a heart like that. He would give up anything to help anybody. To love anybody. The job he did ... that's what he loved to do."
Dozens arrived at the vigil with flowers and candles to honor their loved one and fallen hero. They say Officer Ramos was always a good person, never in trouble and a proud, born-again Christian. He was heavily involved in his Catholic church and talked about his faith often.
His cousin, Ronnie Rodriguez said there's no doubt he's in heaven.
"My cousin had a couple of priorities in his life. One was God. He was a God-loving man and full-blown Christian. He loved his job. He loved his wife. He was a dedicated father. I wish I could be half the man my cousin was. Really. He was sweet. He didn't deserve like this to die. He just didn't."
A childhood friend and neighbor, Bernice Cruz, says this death could have been prevented. She blames the mayor, Bill De Blasio, for the lives of innocent officers.
"We as children wanted to be cops growing up. Now, all we see are these YouTube videos showing them doing their jobs. We forget these are criminals they're out there apprehending. And, De Blasio's out there on the front lines defending these criminals. But, the people defending his own family, he's not out there for. And, I find it disgraceful."
Officer Ramos' cousin, Ronnie, agrees.
"As a leader of this city, he needs to show a little more support for the cops in some way because they are the ones doing the dirty jobs out there. And, they're the ones that are dying for us. It's simple."
Cruz is calling for change.
"We need a mayor back like Giuliani. Someone who couldn't be bought. He wasn't intimidated by anyone. He kept our city safe. We he needed to respond he responded."
The Ramos Family doesn't understand why someone so good was taken at such a young age. Ramos turned 40 years old a few weeks ago and was killed just days before Christmas. This was one of the last posts his son wrote on Facebook before the shooting.
"Happy Birthday to the best dad in the world. You are always there for me even when it's almost impossible. We have so many good times it's not even funny, I love you so much…..How does it feel to be 40? You're getting old dad but you still look good. Hope you have the best birthday, you deserve it."
The family now says he's celebrating Jesus' birthday in heaven and that brings them comfort. They have chosen to forgive the killer already and say that is what Officer Ramos would have done.