Obama's Kenyan relatives react to White House win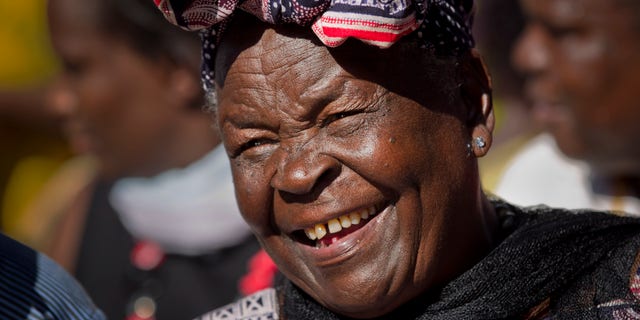 KOGELO, Kenya – Waving her walking cane and smiling broadly, the step-grandmother of Barack Obama celebrated Wednesday as this tiny Western Kenyan village danced and rejoiced after the United States president won four more years in the White House.
Kogelo, a dirt-road town where children play soccer in bare feet, was the home of Barack Obama's father, and claims several relatives of the president among its population. The family matriarch is Sarah Obama, who was married to the president's late grandfather.
"Take the great job that people have given to you and lead them well," Sarah Obama advised her relative by marriage after his victory. "They have shown immense love to have voted for you."
Residents hoisted branches of green leaves, red plastic chairs and even one-speed bicycles into the air to celebrate Obama's win.
"The community is happy. The community is waking up from their sleep to come and celebrate," said Kennedy Rajula, the president's cousin.
Sarah Obama is the second wife of Obama's paternal grandfather. Obama referred to her as "Granny" in his memoir, "Dreams from My Father," and described meeting her during his 1988 trip to his father's homeland and their awkwardness as they struggled to communicate.
Kenya takes great pride in its association with Obama, and Prime Minister Raila Odinga told The Associated Press that the election victory was a great day for the U.S. and Kenya.
"Obama's victory has proved that it was not a fluke the first time round, that the American society has changed, that the people of America have now, basically living the American dream of a people who are united by race, by religion, by ethnicity and so on," Odinga said. "People are prepared to work together to build their country."
Kenya has its own presidential election coming up in March. The country's last vote in late 2007 turned devastatingly violent, and more than 1,000 people were killed. Many people in Kenya vote along tribal lines, adding to the tension, but Odinga said the U.S. vote showed that elections should be decided based on issues.
"This is what we should learn from these elections, American elections, and try to see if we cannot replicate it here in Kenya, that we move away from personality based campaigns or ethnic based campaigns and move toward issue-based campaigns," Odinga said.
John Githongo, a former adviser to Kenya President Mwai Kibaki on ethics and governance who resigned and then exposed hundreds of millions of dollars in government corruption, said Obama enjoys "an unprecedented level of trust" among the people of the world, though he said there are some in Kenya who worry the U.S. will now begin cracking down on corruption and tribalism in Kenya. "Many leaders thrive on corruption and whipping up tribal sentiments to consolidate political support," he said.
Eric Lugalia, a 31-year-old pilot, said he is excited Obama won again. "It also motivates us before our elections. Him being Kenyan, it motivates us to vote wisely for leaders who can bring change, unlike voting along tribal lines as we do."