North Korea's Kim Jong Un ordered missile launch, saying, 'Fire with courage'
The intercontinental ballistic missile launched Tuesday by North Korea was ordered up a day earlier by dictator Kim Jong Un, who boasted it showed the entire United States is now within striking distance of the Hermit Kingdom.
North Korea said it fired its "greatest ICBM" it called Hwasong-15 that was "significantly more" powerful and could be armed with a "super-large heavy nuclear warhead." The regime claimed it is capable of striking the "whole mainland" of the U.S. State TV said Kim gave the order on Tuesday.
"Test launch is approved. Taking place at the daybreak of Nov. 29! Fire with courage for the party and country!" a photo of Kim's signed order stated.
The ICBM was fired at 2:48 a.m. Wednesday North Korea time, the regime's Korean Central News Agency said in a statement hours after the launch. It reach a height of 2,796 miles and traveled 596 miles, demonstrating the potential to reach a range of 8,100 miles. David Wright, a U.S. physicist who has studied North Korea's missile and nuclear programs, said that this would put any part of the U.S. comfortably within reach of a North Korean missile strike.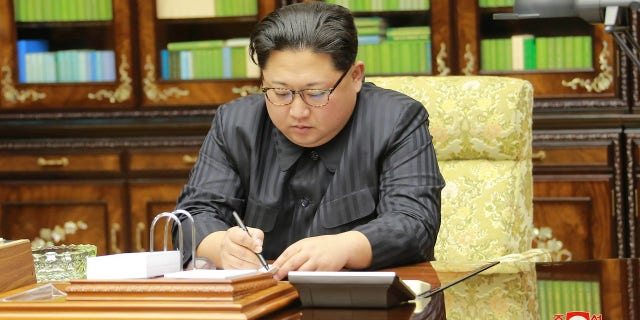 It was determined by the North American Aerospace Defense Command (NORAD) that Tuesday's missile "did not pose a threat to North America, our territories or our allies," Pentagon spokesman Col. Robert Manning III told Fox News.
Kim also declared North Korea "with pride" that it has "finally realized the great historic cause of completing the state nuclear force, the cause of building a rocket power," KCNA said in a statement.
It added, "As a responsible nuclear power and a peace-loving state, [North Korea] will make every possible effort to serve the noble purpose of defending peace and stability of the world."
A big unknown, however, is the missile's payload. If, as expected, it carried a light mock warhead, then its effective range would have been shorter, analysts said.
South Korea responded almost immediately to North Korea's provocation and fired pinpoint missiles into nearby waters to make sure North Korea understands it can be "taken under fire" by the South, Defense Secretary Jim Mattis said. South Korean President Moon Jae-in expressed worry North Korea's missile threat could force the United States to attack the North before it masters a nuclear-tipped long-range missile, something experts say may be imminent.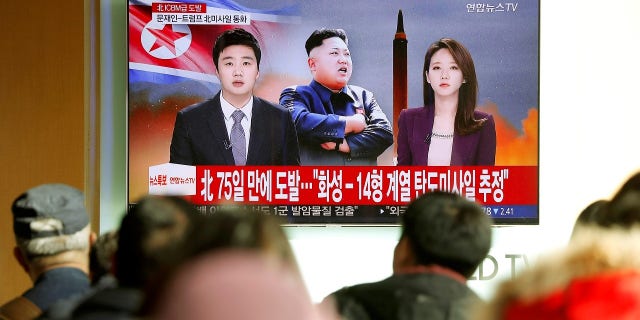 "If North Korea completes a ballistic missile that could reach from one continent to another, the situation can spiral out of control," Moon said at an emergency meeting in Seoul, according to his office. "We must stop a situation where North Korea miscalculates and threatens us with nuclear weapons or where the United States considers a pre-emptive strike."
North Korea has been working to perfect "re-entry" technology to one day have a warhead be able to survive re-entry into Earth's atmosphere. This ICBM would be able to hit any city within the U.S. if a warhead is able to survive re-entry.
Tuesday's launch was the first the regime conducted since its Sept. 15 test when it fired an intermediate-range missile that flew over Japan's Hokkaido Island. October marked the first month the regime didn't test a missile since January. Between February and September, North Korea launched a missile an average of every two weeks.
The Associated Press contributed to this report.