North Korean athletes arrive in South Korea amid Hermit Kingdom's threats of 'dark clouds of a nuclear war'
As North Korean athletes were arriving in South Korea on Thursday ahead of the PyeongChang Winter Olympics' opening ceremony, the regime's propaganda wing back home was accusing the United States of "bringing dark clouds of a nuclear war to the peninsula over which doves should fly."
The 32-member delegation, including 10 athletes, landed in Yangyang International Airport in a South Korean charter plane earlier Thursday. The group then traveled to Gangneung Olympic Village, a sub-host city for the Feb. 9-25 Olympic Games.
SOUTH KOREANS SLAM NORTH KOREA PARTICIPATION, UNIFICATION FLAG AT WINTER OLYMPICS
The athletes, wearing fur hats and black coats, ignored reporters' questions upon their arrival. The athletes — invited to compete in alpine and cross-country skiing, figure skating and shot-track speed skating — joined 12 female hockey players from the Hermit Kingdom who were already in South Korea training with that nation's athletes as part of a joint Olympic team.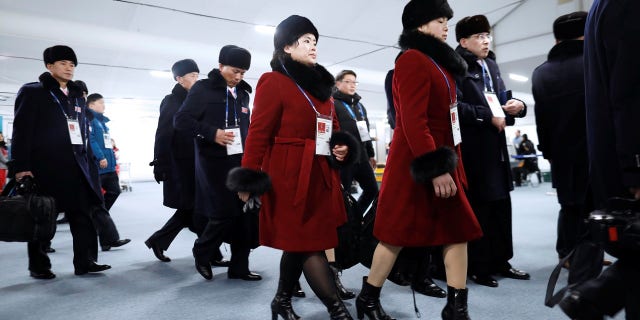 "If feels amazing (that they are coming)," said Choi So Eun, a college student who volunteered for translation and other work during the Olympics. "I thought only high-level officials in South Korea could see a North Korean in person, but I think I can see them here, so I'm excited."
But Thursday's arrival was just the first batch of North Koreans crossing the border for the Olympics.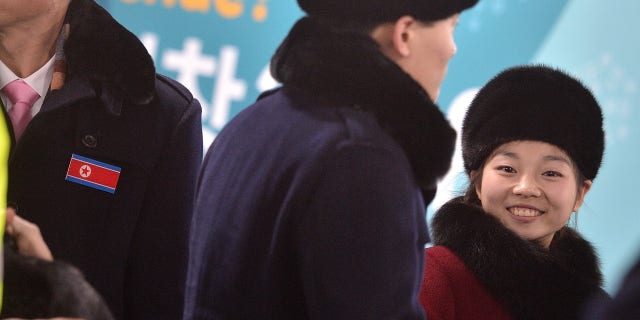 A 230-member cheer squad and 140-person strong art troupe are expected to arrive in South Korea next week. The Koreas have agreed to march under the "unification" flag during the opening ceremony, making South Korea the only host country to not fly its own flag in Olympic history.
Another rare sight on Thursday was North Korean flags seen flying in Olympic villages and stadiums in PyeongChang and Gangneung, something that normally wouldn't be tolerated in a country with a strict anti-communist law still in effect.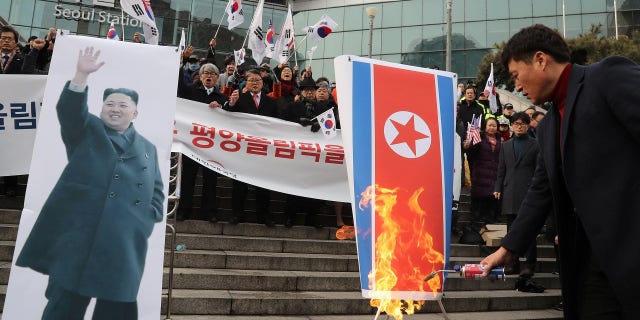 KIM JONG UN'S LUXURY SKI RESORT A PROPAGANDA WIN FOR NORTH KOREA DURING OLYMPICS
The joint Olympic team and unification flag march drew fierce criticism among South Koreans, who saw Seoul's attempt for a peaceful Winter Games as an attempt at "sports diplomacy," something which some critics called "meaningless." Others called the Olympics free propaganda for Kim Jong Un's dictatorship.
Activists were also seen burning the North Korean flag and photos of Kim.
Though North Korea seems to keep interactions with the South cordial, the regime's propaganda continued to lambaste the U.S. after President Trump's State of the Union speech Tuesday, which took direct aim at North Korea as a threat for its increasing nuclear and missile tests.
"The U.S. is bringing dark clouds of a nuclear war to the peninsula over which doves should fly, revealing that it is the heinous enemy of peace and war maniac which should not exist on the earth," Korean Central News Agency said Thursday.
The statement was in response to Trump's call for "waging a campaign of maximum pressure" against North Korea and its "reckless pursuit of nuclear missiles." The president warned North Korean missiles could "very soon" threaten the U.S.
The Associated Press contributed to this report.