North Korea unveils pyramid-shaped 'Hotel of Doom'
North Korea on Thursday quietly unveiled its pyramid-shaped landmark, dubbed the "Hotel of Doom," after decades of embarrassing setbacks to construct the 105-story hotel named the world's tallest unoccupied building.
A new red propaganda sign sits outside the Ryugyong Hotel with the slogan: "Rocket Power Nation." Walls surrounding the massive structure were removed on the anniversary of the Korean War armistice, revealing two walkways leading up to the futuristic building. Construction at the site ramped up more than a week leading up to the unveiling, with "soldier-builders" working within the walls at the site.
A day after, North Korea test-launched its second ICBM, the longest missile test in the communist regime's history.
Construction for the hotel began in 1987, during the reign of Kim Jong Un's grandfather, Kim Il Sung, North Korea's founder and "eternal president." But shortly after, an economic crash and the 1990s famines left the rogue nation grappling to keep its citizens alive. The country had no funds to keep construction going, putting a halt to the leader's pet project.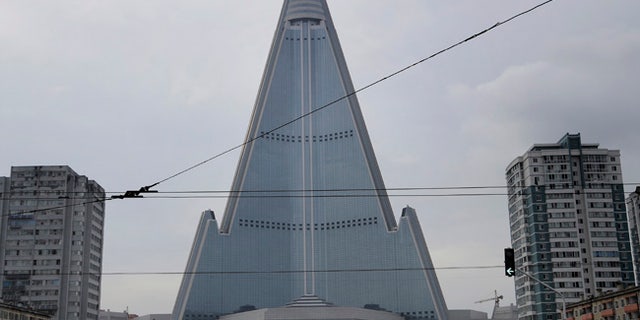 It remained an embarrassing concrete shell for more than a decade until Egypt's Orascom Group — which was also key in establishing the North's cellphone system — helped pay for work to complete the building's shiny exterior in 2011.
The hotel's final completion or when it will open for guests still remains a mystery. After years of false hope, the completion may still take years. Rumors that the hotel might open this year began in December 2016 -- when video surfaced showing lights toward the top of the structure.
Construction projects are on Kim's agenda. Several major high-rise areas have been completed since Kim took power in 2011 after his father passed away. A 70-story residence and dozens of other tall buildings in the capital's "Ryomyong," or "dawn," district opened in April. A new international airport -- a sci-tech complex -- also opened in the capital, as well as many other recreational and educational facilities.
The unveiling comes as North Korea reportedly looks to bolster its tourism, hoping to welcome in one million visitors by the end of 2017. About 100,000 tourists go secretive regime yearly, The Telegraph reported.
Reports also surfaced of North Korean officials are looking to open a beach resort that would be a knock-off of a Spanish getaway that's a hotspot for drinking tourists.
The Associated Press contributed to this report.