North Korea unveils Kim Jong Un's first official portrait
Kim Jong Un has been framed.
The first official portrait of the North Korean leader was unveiled Sunday in Pyongyang International Airport during a ceremony to welcome Cuban leader Miguel Diaz-Canel for his state visit. Pictures released by North Korean state media showed the portrait hanging next to a painting of Diaz-Canel.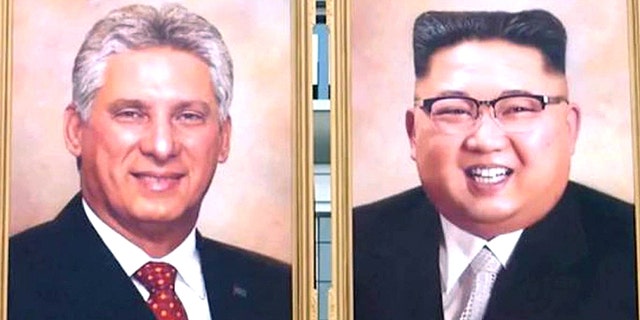 The artwork shows a smiling Kim wearing his signature glasses, but dressed in a Western-style suit and tie instead of his typical Mao-style outfit. It's considered the first official portrait of Kim because it's a painting, rather than the photograph of Kim that was previously displayed in public areas.
KIM JONG UN'S BIZARRE NORTH KOREA PROPAGANDA PHOTOS
"That a painted portrait of Kim Jong Un has appeared in this style is a strong hint that the regime could be beginning to take steps to develop the Kim Jong Un personality cult," NK News analyst Oliver Hotham told the BBC. "North Koreans will certainly understand the symbolism of this move."
Kim's father, Kim Jong Il, and grandfather, Kim Il Sung, also had portraits drawn when they ruled the Hermit Kingdom.
The despots' portraits hang in nearly all buildings and households in North Korea, the BBC reported.