North Korea state media blasts US 'gangster logic' hours before Kim Jong Un praises June summit with Trump
Hours after his state media apparatus blasted the United States for spewing "gangster-like" rhetoric that has "deadlocked" denuclearization talks, North Korean leader Kim Jong Un credited the "historic" June summit with President Trump as helping to stabilize the region.
As Kim and South Korean leader Moon Jae-in held talks in Pyongyang, state-run media accused "conservative politicians" of using "gangster logic" and demanding the Hermit Kingdom give up all its nuclear weapons before any further progress could occur.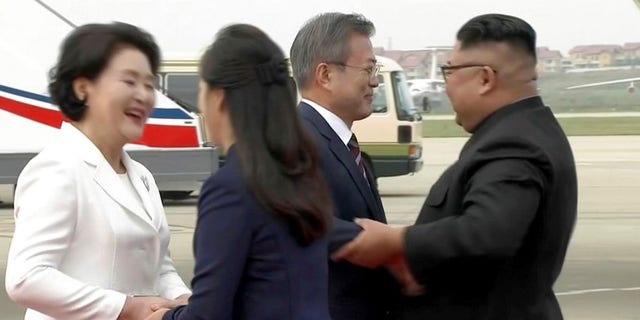 "The U.S. is totally to blame for the deadlocked [North Korea]-U.S. negotiations," the statement said. "The U.S. is stubbornly insisting on the theory of 'dismantlement of nukes first' which was rejected in the past DPRK-U.S. dialogues, saying that other issues may be discussed only after the 'complete, verifiable and irretrievable dismantlement of nukes' of [North Korea]."
The statement added: "The U.S. is demanding unilateral and gangster-like claim forcing [North Korea] to act without showing its movement. The conservative politicians of the U.S. are taking the lead in persisting in such gangster logic."
TRUMP SAYS 'NO REASON' FOR COSTLY US-SOUTH KOREA WAR GAMES, RELATIONSHIP WITH KIM JONG UN IS 'VERY GOOD'
North Korea demanded a "sincere approach" to the denuclearization talks moving forward.
"The U.S. should think twice and have an honest and diligent attitude toward the [North Korea]-U.S. dialogue with sincerity and bold decision. And this is also beneficial to the U.S.," the statement said.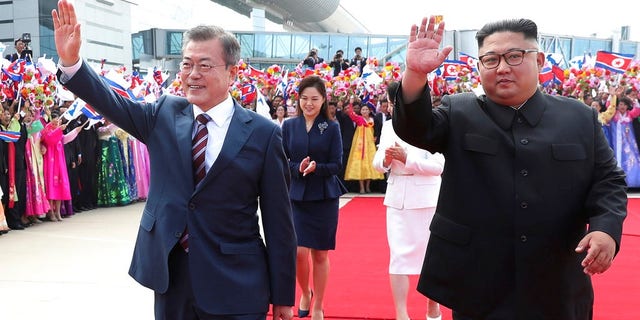 Later, during his meeting with Moon, Kim told the South Korean leader the meeting he had with Trump in Singapore stabilized the security situation in such a volatile part of the world.
"President Moon helped find the start of the historic North Korea-U.S. talks," Kim told Moon, according to Yonhap News Agency. "Thanks to this [U.S.-North Korea meeting], regional conditions stabilized and a more advanced outcome is expected."
Kim added: "I once again express my gratitude for efforts made by President Moon."
The leaders of the two Koreas had their first in-depth talks in Pyongyang on Tuesday, kicking off their third summit overall and one that's expected to address several major topics.
NORTH KOREA ACCUSES US OF 'HATCHING A CRIMINAL PLOT TO UNLEASH WAR' WHILE TRYING TO CONTINUE DIALOGUE
South Korea also hopes the summit prevents North Korea's dialogue with Washington from imploding.
Kim agreed in June to "complete denuclearization" of the Korean peninsula and to destroy a "major" missile testing site.
But although North Korea has taken some steps toward that end, U.S. officials have demanded more serious disarmament moves before the Hermit Kingdom begins receiving outside concessions. North Korea and U.S. talks have since stalled as both sides refuse to budge.
Trump has indicated he may be open to holding another summit to resuscitate the talks.
The Associated Press contributed to this report.