North Korea officials move long-range rocket into position for launch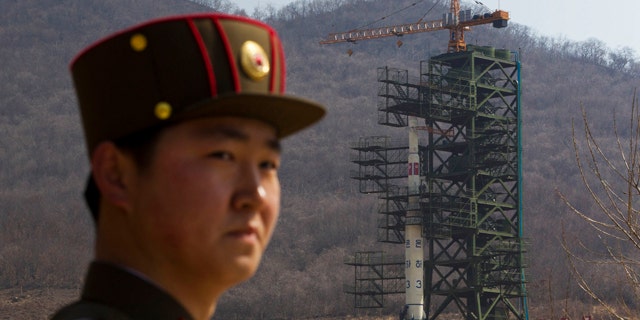 TONGCHANG-RI, North Korea – North Korean space officials have moved all three stages of a long-range rocket into position for a controversial launch, vowing Sunday to push ahead with their plan in defiance of international warnings against violating a ban on missile activity.
The Associated Press was among foreign news agencies allowed a firsthand look at preparations under way at the coastal Sohae Satellite Station in northwestern North Korea.
North Korea announced plans last month to launch a communications satellite using a three-stage rocket during mid-April celebrations of the 100th anniversary of the birth of North Korean founder Kim Il Sung. Engineers said Sunday that the satellite will orbit the earth and send back data for weather forecasts and crop surveys.
The U.S., Japan, Britain and other nations have urged North Korea to cancel the launch, warning that firing the long-range rocket would violate U.N. resolutions and North Korea's promise to refrain from engaging in nuclear and missile activity.
North Korea maintains that the launch is meant to showcase its scientific achievement.
Experts say the Unha-3 rocket slated for liftoff between April 12 and 16 could also test long-range missile technology that might be used to strike the U.S. and other targets.
North Korea has tested two atomic devices, but is not believed to have mastered the technology needed to mount a warhead on a long-range missile.
On Sunday, reporters were taken by train to North Korea's new launch pad in the hamlet of Tongchang-ri in North Phyongan province, about 50 kilometers (35 miles) south of the border town of Sinuiju along North Korea's west coast.
All three stages of the rocket were visibly in position at the launch pad, and fueling will begin soon, Jang Myong Jin, general manager of the satellite station, told reporters during a tour of the Tongchang-ri facilities.
He said preparations were well on track for liftoff and that international space, aviation and maritime authorities had been advised of the plan, but did not provide exact details on the timing of the fueling or the mounting of the satellite.
About two weeks before North Korea unveiled its rocket plan, Washington announced an agreement with the North to provide it with much-needed food aid in exchange for a freeze on nuclear activity, including a moratorium on long-range missile tests. Plans to send food aid, as well as a recently revived project to conduct joint searches for the remains of U.S. military personnel killed during the Korean War, have now been suspended.
Japan and South Korea, meanwhile, said they are prepared to shoot down any parts of the rocket that threaten to fall in their territory -- a move North Korea's Foreign Ministry warned would be considered a declaration of war.
The launch is scheduled to take place three years after North Korea's last announced attempt to send a satellite into space, a liftoff condemned by the U.N. Security Council. North Korea walked away from nuclear disarmament negotiations in protest, and conducted an atomic test weeks later that drew tightened U.N. sanctions.
Kim Jong Un took power following the December death of his father, longtime leader Kim Jong Il, and is expected to assume more top posts during high-profile political and parliamentary meetings later this week -- a step analysts say will formally complete the country's second hereditary power transfer.
The 100-kilogram (220-pound) satellite is designed to send back images and information that will be used for weather forecasts as well as surveys of North Korea's natural resources, Jang said. He said a western launch was chosen to avoid showering neighboring nations with debris.
Two previous satellites, also named Kwangmyongsong, or Bright Shining Star, were experimental, but the third will be operational, he said.
China's foreign minister said Sunday that Beijing is troubled by North Korea's launch plan and has urged more diplomacy. Yang Jiechi said he discussed the launch plan during trilateral talks with his counterparts from Seoul and Tokyo in the eastern Chinese city of Ningbo.