North Korea marks 70th anniversary with somewhat muted military parade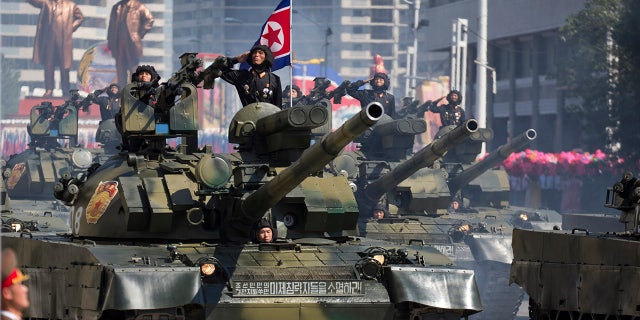 North Korea showcased its latest weaponry and best goose-stepping soldiers Sunday as the reclusive nation marked its 70th anniversary with a military parade at a time when it is under international pressure to dismantle its nuclear weapons program.
Tens of thousands of North Koreans waved colored plastic bouquets in Pyongyang's Kim Il Sung Square and held them up to spell out words and slogans as tanks and artillery rolled by.
No long-range missiles were on display, with the parade instead focusing on economic development. North Korea traditionally uses holidays to showcase its military arsenal and new technology.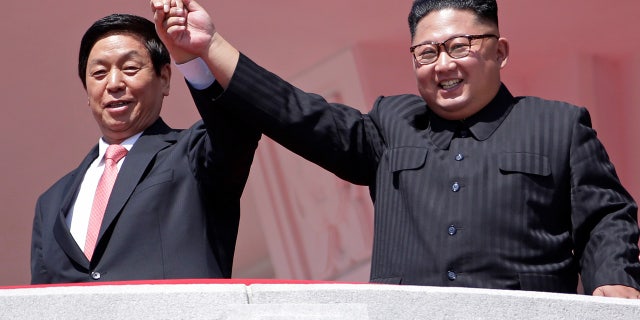 The procession also celebrated civilian groups such as nurses, students and construction workers in an effort to emphasize the country's economy.
The focus on the military and civilian sectors was not new to celebrations of North Korea's founding.
In 2008 and 2013, the Korean People's Army was not featured, only the civil defense units, officially called "Worker Peasant Red Guards."
Kim Yong Nam, head of North Korea's parliament, set the relatively softer tone for the event with an opening speech that emphasized the economic goals of the regime, not its nuclear might. He called on the military to be ready to work to help build the economy.
Guests at the parade included the head of the Chinese parliament and high-level delegations from countries that have friendly ties with the North. North Korean leader Kim Jung-Un attended but did not address the crowd.
Afterward, he met with Chinese special envoy, Li Zhanshu, who is also the third-ranking member in China's ruling Communist Party. The two held up their joined hands to symbolize the countries' traditionally close ties, though the absence of Chinese President Xi Jinping could indicate Beijing still has some reservations about Kim's initiatives.
North Korea holds military parades almost every year and held one just before the Winter Olympics in South Korea in February.
This year's parade wasn't televised but the state media apparatus filmed it – even using drones with cameras.
Earlier in the day, North Korea media reported Kim visited the mausoleum where his grandfather, the country's founder, and his father lie in state, Reuters reported.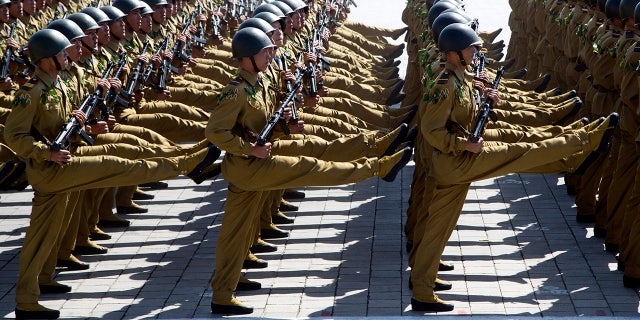 The parade comes at a sensitive time in the region.
Washington wants North Korea to abandon its nuclear weapons program while Kim wants security concessions and a formal agreement ending the Korean War.
Kim will meet with South Korean President Moon Jae-in the coming weeks to discuss a path toward denuclearization.
This year's celebration also marks a return of North Korea's Mass Games, which involve tens of thousands of people dancing in unison in a display of national unity.
The Associated Press contributed to this report.