North Korea increasing executions of top political officers amid sanctions strain, US general says
North Korea is stepping up its execution of top political officers to prevent the regime from deteriorating under immense pressure caused by international sanctions, a U.S. general said after recent reports suggested that a key member of Kim Jong Un's inner circle was reported executed by death squad.
Speaking to the Wall Street Journal, Gen. Vincent K. Brooks, the top U.S. commander in South Korea, said the political figures Kim Jong Un is ordering killed have been accused of corruption.
"We're seeing some increase in executions, mostly against political officers who are in military units, for corruption," Brooks said. "[The executions] are really about trying to clamp down as much as possible on something that might be deteriorating and keeping it from deteriorating too quickly."
KIM JONG UN'S TOP AIDE EXECUTED BY NORTH KOREAN DEATH SQUAD, REPORTS SUGGEST
The general's comments come after rumors swirled that Hwang Pyong-so, a vice marshal who held the most senior position in North Korea's military, was reportedly expelled and "punished" for "impure attitude." Hwang hasn't been seen in public since Oct. 13. South Korea's spy agency first reported in mid-March the top aide and his deputy, Kim Won-hong, were killed out of Kim's circle, according to Yonhap News Agency.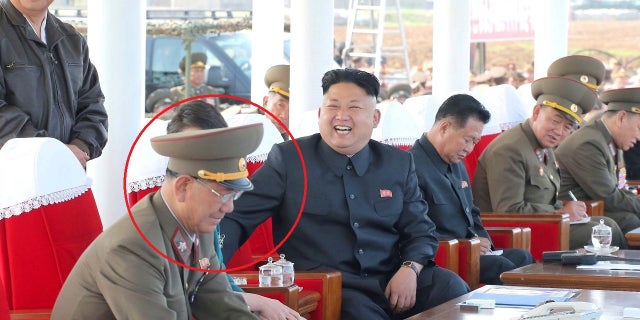 Kim Won-hong was reportedly sentenced to one of North Korea's prison camps. As for Hwang, many of Kim Jong Un's recent actions indicate the man whom the dictator has trusted for about a decade was executed -- possibly by the infamous firing squad that also killed Kim's uncle, Jang Song Thaek.
KIM JONG UN'S EX, NORTH KOREA'S GIRL BAND LEADER APPEARS AT OLYMPIC MEETING DESPITE GRUESOME EXECUTION RUMORS
Brooks also told the Wall Street Journal that North Koreans are defecting via routes that were rare before, such as crossing the Demilitarized Zone. At least two North Korean soldiers have defected through the Joint Security Area in in less than a year — an event that was rarely seen in previous years.
The mounting international sanctions against North Korea since its sixth nuclear test in September have reportedly caused strain in North Korea. The regime's military scaled back its annual winter military exercises this year. However, the analysts said the scale back doesn't indicate North Korea's military capabilities have diminished.