North Korea expected to feel 'severe' economic difficulties from UN sanctions by March, South Korean researchers say
Kim Jong Un may seem to keep his regime afloat with missile tests and propaganda depicting happy and healthy citizens despite tougher United Nations sanctions, but in a few months North Koreans will be struggling to stay alive because of "severe" economic difficulties, South Korean researchers predicted on Monday.
North Korea is most likely going to feel the effects of the U.N. sanctions that were adopted in September by March of next year, The Institute for National Security Strategy, a South Korean research team that's part of the country's National Intelligence Service, said, according to Yonhap News Agency.
"In addition to further toughened sanctions, an increase in North Korea's investment in conventional forces in the aftermath of military pressure stemming from the (Korean) deployment of American strategic assets is forecast to hit the North Korean economy seriously sometime after March next year," the research institute said.
WHY 2018 WILL BE NORTH KOREA'S YEAR
It added, "March has been pinned for the timing for the [United Nations Security Sanction] Resolution 2375 adopted in September to take effect, given the U.N. sanctions committee's position that the effects of sanctions begin to be seen six to twelve months after their introduction."
South Korean researchers said it's unclear if Kim will continue his focus on building the rogue nation's nuclear and missile program as world leaders threaten more sanctions to cripple its economy. Analysts previously told Fox News that Kim's strategy for his regime's success is to develop its nuclear arsenal and build its economy.
"North Korea may put further focus on building the economy while holding on to its policy line of becoming the most powerful nuclear state," Institute for National Security Strategy said.
AUSTRALIAN ACCUSED OF BEING 'LOYAL AGENT' TO NORTH KOREA IDENTIFIED, CALLED A 'GOOD MAN'
The U.N. Security Council unanimously approved sanctions that banned the regime from importing all natural gas liquids and condensates and capped imports of crude oil. North Korea scoffed at the sanctions and continued to accuse the U.S. of bringing the nations to the brink of a nuclear war.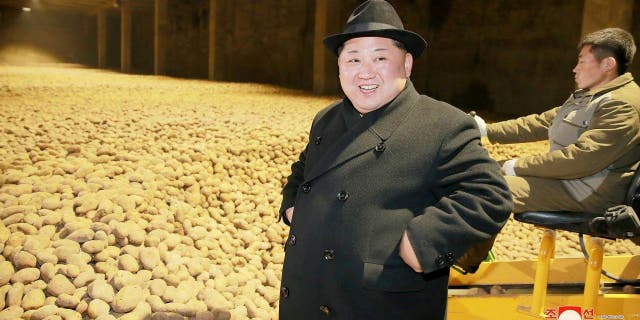 The forecast of the expected impact of the U.N. sanctions came the same day the White House disclosed North Korea was behind the massive "WannaCry" cyberattack in May that spread around the world costing billions of dollars.
In a Wall Street Journal op-ed, entitled, "It's Official: North Korea Is Behind WannaCry," White House Homeland Security Adviser Tom Bossert wrote that the Hermit Kingdom was the main culprit behind the May 2017 global cyberattack in which computers running Windows were targeted. During the infamous attack, data were encrypted and ransom payment, in the form of bitcoin, was demanded of users if they wanted their data back. It's unclear if the U.S. will take additional actions after the disclosure.
North Korea launched an intercontinental ballistic missile in late November and boasted that the weapon could carry "super-large heavy nuclear warheads."
Experts have feared the Hermit Kingdom could conduct another test before the end of the new year, but the research institute predicted Kim might use the 2018 Winter Olympics in South Korea's PyeongChang to establish a dialogue, according to Yonhap.
As for whether North Korea would even participate in the Olympics, researchers said: "All the steps for participation have been completed except for (leader) Kim Jong-un's final decision."