US citizen released from North Korea says he spied for US, South Korea
A U.S. citizen convicted of espionage in North Korea and later freed from prison there has admitted he was indeed spying for the U.S. and South Korea — detailing how he surreptitiously collected sensitive information from the Hermit Kingdom and also highlighting that not all of Pyongyang's pronouncements about captured spies are exaggeration, paranoia or propaganda.
Kim Dong Chul, a South Korea-born U.S. citizen and former Virginia resident, was released from North Korea in May 2018 after an April 2016 conviction that landed him in prison for 10 years with hard labor. He had been tried for allegedly "perpetrating state subversive plots and espionage against" North Korea.
KIM'S GULAGS: NORTH KOREA HOLDING UP TO 120,000 POLITICAL PRISONERS, STATE DEPARTMENT REPORT SAYS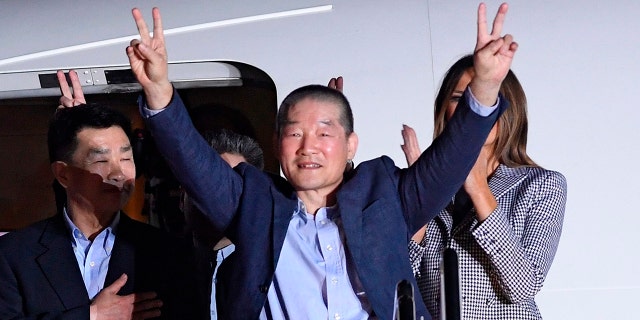 And it turns out, that's exactly what he did.
He admitted before his sentencing to collecting and passing confidential information to South Korea, but such confessions are often stage-managed and coerced. But in an article published Thursday, a now-free Kim told NK News he also spied for the U.S. to obtain "very significant" information valuable to U.S. intelligence agencies.
TRUMP TELLS NORTH KOREAN DEFECTOR HE'LL BRING UP CHRISTIAN PERSECUTION IN TALKS WITH HERMIT KINGDOM
Many other foreigners who admitted to crimes against North Korea at news conferences have said after their releases that their confessions were given involuntarily and under duress, making Kim's comments doubling down on his spying that much more significant.
"I filmed footage with a watch [equipped with a camera] and used electromagnetic wave wiretapping equipment," Kim said, saying he provided "very close-up photos" of a "suspicious vessel on the Rajin port" for the CIA just before he was arrested in October 2015.
"I became a traitor overnight and was locked up in a forced labor camp," he said. "I hit rock bottom."
Kim said he was "subjected to water torture eight times...I tried a few times to take my own life. But I could not die."
CLICK HERE TO GET THE FOX NEWS APP
Kim was among three men — including Tony Kim and Kim Hak Song — to be released from North Korean custody after months of high-stakes diplomacy between Pyongyang and the U.S. in 2018.
After Secretary of State Mike Pompeo visited North Korea for roughly 12.5 hours — including a roughly 90-minute meeting with leader Kim Jong Un — the detainees were granted amnesty, and later released.
The Associated Press contributed to this report.