No10 denies Cameron, Clegg coalition renewal talks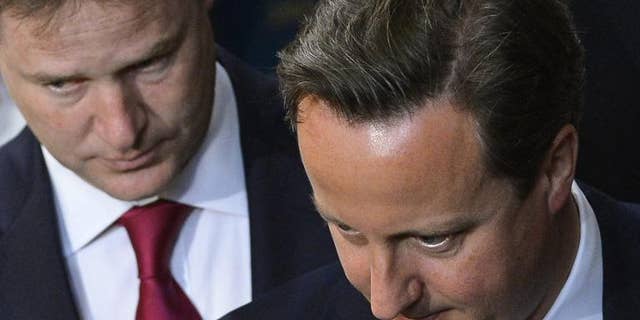 London (AFP) – Downing Street denied Saturday claims that David Cameron and Nick Clegg have held talks about forming another Conservative-Liberal Democrat coalition after the next general election in 2015.
In a new book on Cameron's coalition government, which came to office in May 2010, it is claimed that the Tory prime minister and his Liberal deputy have discussed the possibility of renewing the arrangement, should the Conservatives once again top the polls but fall short of a parliamentary majority.
The claims were made in journalist Matthew d'Ancona's book "In It Together", which is being serialised in The Daily Telegraph and The Sunday Telegraph.
Discussions have taken place "from time to time" in the last 12 months, according to the book, which is said to be based on accounts from senior government figures.
D'Ancona writes: "From time to time, he (Cameron) would raise the question of a second coalition with Clegg. 'If we did it again,' he mused to the deputy prime minister, 'I'd have to seek collective permission'."
A Number 10 spokesman said: "There are not, nor have there been any plans or talks to form a coalition post-2015. The prime minister is entirely focused on running the country."