No-confidence vote in Peru forces Cabinet resignations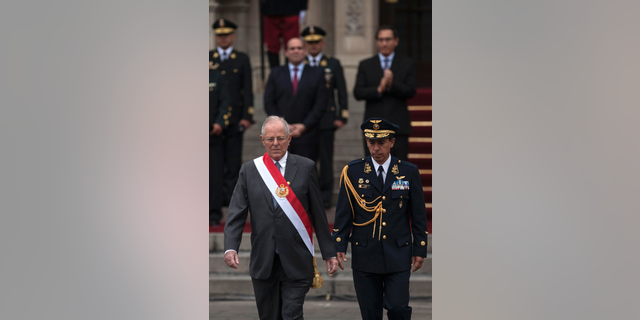 NEWYou can now listen to Fox News articles!
LIMA, Peru – Peruvian President Pedro Pablo Kuczynski's entire Cabinet has been forced to resign following a no-confidence vote by the opposition-led congress, throwing the country into political turmoil.
Friday's vote arose from a standoff over lawmakers' demand that Kuczynski's education minister resign due to her handling of a 60-day teachers' strike.
It is the first time under Peru's 1993 constitution that the single-chamber legislature has taken such a step.
Kuczynski says he is canceling a trip to the U.N. General Assembly next week to try to form a new Cabinet.
If lawmakers do not ratify his picks, he would have the option of dissolving congress and calling new parliamentary elections.
The body is dominated by supporters of former presidential candidate Keiko Fujimori.