New Year's Eve skyscraper fire in Dubai smolders into 2016
Firefighters were working Friday to douse the embers of a fire that engulfed a 63-story luxury hotel in Dubai on New Year's Eve, injuring 14 people.
After more than 12 hours, firefighters were still on the scene at the Address Downtown, one of the most upscale hotels and residences in Dubai.
The Associated Press reported that at one point Friday firefighters could only watch after losing the use of a water hose from a ladder truck. They later regained water pressure and began spraying the building. Restaurants nearby opened for business, but served limited menus as civil defense officials cut natural gas to the area.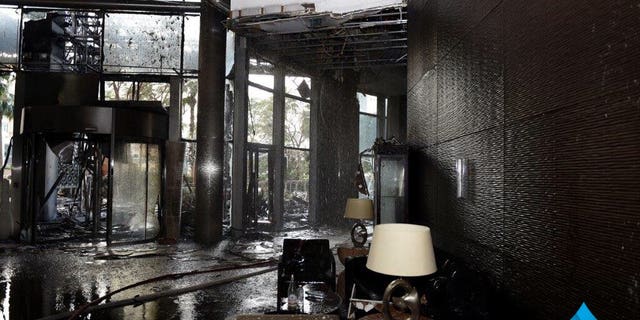 By Friday afternoon, the fire had largely died down, but its embers still sent smoke into the air.
The fire started around 9:30 p.m. (12:30 p.m. ET) Thursday, racing up the sides of the building and sending thick smoke over the skyline. Authorities still conducted a midnight fireworks show at the nearby Burj Khalifa, the world's tallest building.
Dubai officials said only 14 people suffered minor injuries in evacuating the building.
Dubai's Media Office wrote on its official Twitter account that the fire appeared to have started on a 20th floor terrace, though witnesses who saw the blaze start said they believed it began on the building's ground floor.
No one has yet offered a cause for the fire.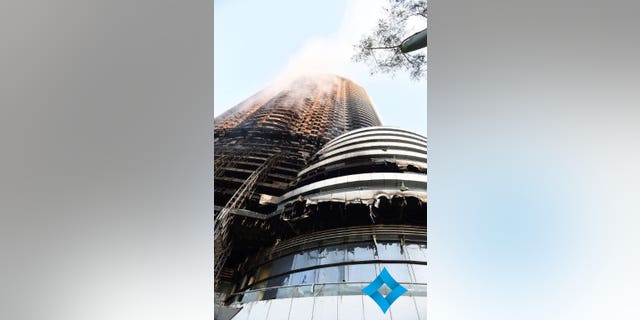 Hotel guest Kenneth Flynn told Sky News he was having a drink with his girlfriend when she "noticed something falling from the building."
"When we walked out, the whole building was just ablaze. It was unbelievable," he said. "The heat was so intense. ... People started to panic, crushing each other trying to get down the stairs."
Another guest, Angus Villar, was on the 15th floor of the building pouring champagne as he and his family prepared to celebrate the New Year.
He told Sky News that his father had gone out on to the balcony before returning to say there was a fire. During the evacuation, Villar said he had to carry his wheelchair-bound mother on his back.
Thursday's fire was the latest in a series of infernos that have struck the towers that provide this Middle Eastern megacity with its futuristic skyline.
In February, a similar blaze spread along the external cladding of Dubai's 86-story Torch tower, one of the world's tallest residential buildings. There were no serious casualties in that fire. In October, another fire broke out in a high-rise residential tower in the Emirati city of Sharjah.
The Associated Press contributed to this report.