New popemobile SUV includes bigger dome, new security features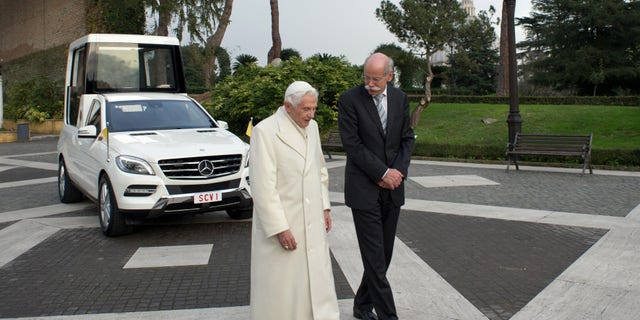 BERLIN – German automaker Daimler says it has delivered Pope Benedict XVI his new popemobile -- a customized Mercedes-Benz M-Class SUV with special security features.
The company says the new car was delivered Friday to the Vatican and people should be able to see the pope riding in it Saturday in Rome during a celebration at the Spanish Steps.
Compared with the previous vehicle, a modified M-Class from 2002, Mercedes has extended the dome significantly to give the pope more room and easier entry. Larger glass panels and better illumination also aim to make the pontiff more visible to crowds.
Daimler says the white-painted vehicle's central interior design feature is a "throne" embroidered with the pontiff's coat of arms.
The automaker declined to detail the vehicle's "spectrum" of security features.