Nevada Teen Accused Of Killing Mother And Brother Appears In Court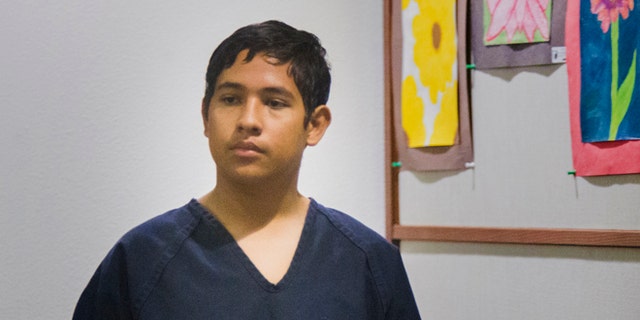 Las Vegas – Shackled and wearing a blue prison uniform, a Las Vegas-area teenager Monday made a brief initial court appearance on charges that he killed his mother and younger brother a day after celebrating his 16th birthday.
Adrian Navarro-Canales nodded to say he understood the charges and said little else during the hearing before Henderson Justice of the Peace David Gibson Sr. The judge set a preliminary hearing for Oct. 30.
Navarro-Canales is being prosecuted as an adult in the case. He wasn't asked to enter a plea.
He faces two murder charges that could carry the possibility of life in prison if he is convicted. He cannot face the death penalty due to his age.
Henderson police found the bodies of Elvira Canales-Gomez and 9-year-old Cesar Navarro Sept. 20 in the bathroom of their Henderson apartment.
The mom had multiple stab wounds and a butcher knife in her chest, police said. The boy was stabbed once in the chest.
Police haven't released a possible motive for the slayings.
A cousin, Ana Martinez, 23, told police that she didn't think Navarro-Canales had any friends in the Las Vegas area, didn't like living in the United States and wanted to go back to Mexico. She said he spent most of his time in the apartment playing video games.
Neither the prosecutor, Robert Daskas, nor the teen's appointed public defender, Joseph Abood, commented outside court.
Navarro-Canales was sought for several days in the U.S. and along the Mexican border before he was found last Wednesday sitting alone at a food court on the Las Vegas Strip. The spot is about 9 miles from the suburban apartment where he lived with his mother and brother.
Police think the killings occurred Sept. 17, sometime after the mom picked up Cesar from school.
Navarro-Canales was initially named as a possible victim, not a suspect, and his father, Adrian Navarro Soto-Mayor, flew from San Jose, Calif., to plead for him to contact family members.
The Associated Press typically doesn't identify minors accused of crimes but is naming Navarro-Canales because of the seriousness of the case.
Officers went to the apartment once Sept. 18 and twice Sept. 19 at the request of Martinez and Canales-Gomez's boyfriend before entering and finding the bodies during a fourth visit.
School officials said Navarro-Canales was enrolled as a junior at Coronado High School in Henderson but hadn't attended classes since school began in August.
Based on reporting by The Associated Press.
Follow us on twitter.com/foxnewslatino
Like us at facebook.com/foxnewslatino