Netanyahu cancels meeting with German diplomat in rare feud with ally
Israeli Prime Minister Benjamin Netanyahu canceled a scheduled meeting Tuesday with visiting German Foreign Minister Sigmar Gabriel after learning the diplomat would meet with human rights organizations critical of the Israeli military, in a rare feud between two allies.
Gabriel has planned to meet with Israeli representatives of the human rights organizations known as Breaking the Silence and B'Tselem.
ISRAEL MARKS HOLOCAUST REMEMBRANCE DAY WITH SOMBER CEREMONY
Breaking the Silence is a non-government organization that publishes testimonies of veterans from Israeli Defense Forces to shed light on the Israeli occupation of the West Bank. B'Tselem is a non-profit that documents human rights abuses in occupied territories.
Netanyahu had threatened to scrap the meeting before following through. Gabriel earlier called Netanyahu's ultimatum "regrettable and unimaginable" in an interview with German media outlet ZDF, adding: "It is perfectly normal for us to meet with representatives of civil organizations during a political visit."
NETANYAHU ISSUES STERN WARNING ON IRAN IN EXCLUSIVE INTERVIEW WITH FOX NEWS
Gabriel refused to take a phone call from the Israeli premier, explaining that he refused to participate in a political game, Haaretz reported.
In return, shortly afterwards, Netanyahu's office issued a statement saying, "Imagine if foreign diplomats visiting the United States or Britain met with NGOs that call American or British soldiers war criminals. Leaders of those countries would surely not accept this."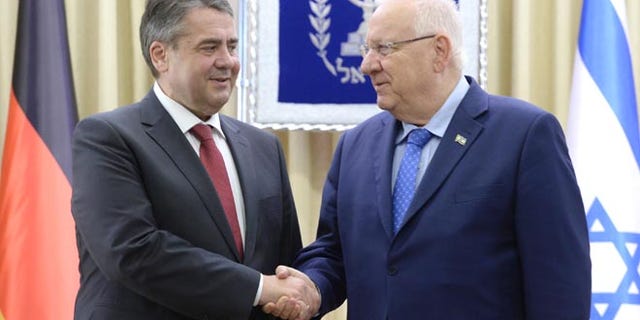 The statement added, "Diplomats are welcome to meet with representatives of civil society but Prime Minister Netanyahu will not meet with those who lend legitimacy to organizations that call for the criminalization of Israeli soldiers. Our relations with Germany are very important and they will not be affected by this."
Israeli President Reuven Rivlin did meet with Gabriel, stressing the significance of Israel and German relationship was "a truly deep and positive one."
Gabriel noted he had arrived on Israel's Holocaust Remembrance Day and said, "We came here yesterday on a very special day. It reminds us of the special relationship and special responsibility not just today but in the future, to a secure and safe Israel, to support the country which is the country of those who survived the Holocaust."
During their meeting, Rivlin spoke of the current debate surrounding his visit, and stressed that as a democratic state, Israel was familiar with receiving criticism from time to time.
He also noted that criticism needed to be based in reality. "Our army is the most moral army in the world," Rivlin said, adding, "it is an army made up of all our children. We know how to maintain our army as the most moral in the world, and we will continue to do so."
Gabriel has served as Germany's foreign minister since January and its vice chancellor since 2013. This is his first visit to Israel in his new job.
A similar diplomatic skirmish occurred earlier this year after visiting Belgian Prime Minister Charles Michel met with representatives of Breaking the Silence and B'Tselem a day after his meeting with Netanyahu. The Israeli premier then ordered the summoning of Belgium's ambassador to his foreign ministry.