Neo-Nazi Group Plans Anti-Immigrant Rally In California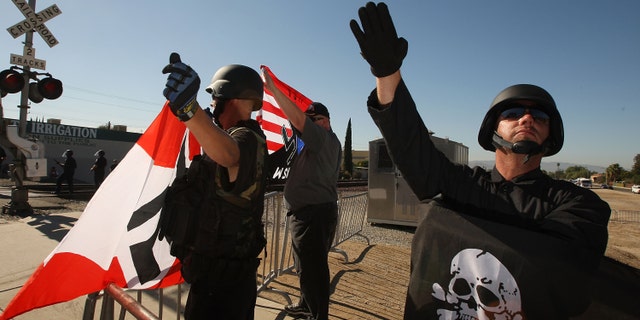 A neo-Nazi group has planned a march and rally outside a California town's city hall to demand an end to undocumented immigrants coming into the country.
Members of the National Socialist Movement (NSM) will march Saturday afternoon to Pomona's City Hall because the town is considered a "sanctuary" city for undocumented immigrants. Sanctuary cities are considered any town in the U.S. that – either by law or by habit - protects undocumented immigrants by not complying with federal immigration policies.
"Pomona was selected for this event because it's turned itself into a sanctuary city for all these illegal aliens who are flooding into this area," NSM member Butch Urban said, according to the Southwest Riverside News Network.
Pomona is a primarily Latino town with about 70 percent of its population identifying as Hispanic, according to Census data compiled in 2010. A neo-Nazi rally in March attracted approximately 500 counter demonstrators to combat the 30 white supremacist members.
"We have planned for sufficient resources for this event," Pomona police Sgt. Lain Miller to the local press regarding chances of conflict between the neo-Nazis and counter demonstrators.
The region around Pomona is also home to several colleges and the group is expected to voice their opinions on the recently approved DREAM Act, which provides legal residency to undocumented immigrants who came to the country before the age of 16, complete two years of college or military service and have no criminal record.
The commander of the National Socialist Movement, Jeff Schoep, said in a press release on the organizations website that the group is rallying to see where white people fit among the communities living in Pomona. "With whites being the minority population in Pomona, you have to ask yourself where will white people fit in among these volatile American communities," Schoep stated. "White people cannot be left out of what has traditionally been their own towns…This is not Aztlán."
The National Socialist Movement, which is based in Detroit and was founded in 1994, has its roots in the original American Nazi Party. It is best known for carefully staged protests in Nazi uniforms and swastika armbands, which have managed to win substantial news coverage for the group, according to the Southern Poverty Law Center.
"The group is notable for its violent anti-Jewish rhetoric, its racist views and its policy allowing members of other racist groups to join NSM while remaining members of other groups," according to the Southern Poverty Law Center's website.
While the group has spoken out against many minorities in the U.S., it has recently latched on to anti-immigrant fervor. "Like other neo-Nazi groups, the NSM has worked to capitalize on anti-immigration sentiment in America." according to the Anti-Defamation League.
In 2010, the National Socialist Movement's activity focused almost exclusively on immigration, with a rally in Los Angeles leading to clashes between group members and counter demonstrators in which police arrested five counter protestors.
Despite their affinity for Nazi regalia, Urban told the Southwest Riverside News Network that the group did not promote racial hatred. "The blacks have the NAACP," he said. "The Hispanics have their organizations and all that is OK. Well, our group is a white rights organization."
Urban also added that the group did not have a permit for the march.
Follow Andrew O'Reilly on Twitter: @aoreilly84
Follow us on twitter.com/foxnewslatino
Like us at facebook.com/foxnewslatino