Neighbor: Lockerbie Bomber's Family at Libya Home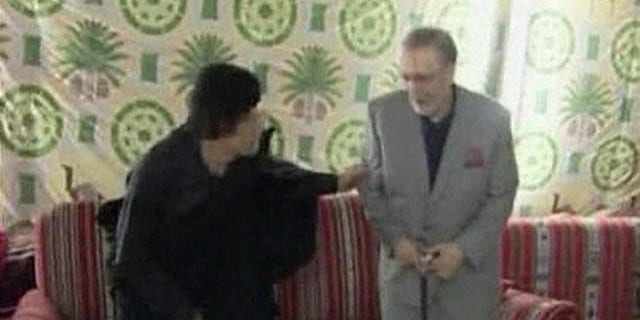 TRIPOLI, Libya-- No one answered the door Saturday at the Lockerbie bomber's Tripoli villa, hidden behind tall walls in an upscale neighborhood of the capital.
A neighbor, Yousef Mohammed, said he saw the son of Abdel-Baset al-Megrahi in the street on Friday and assumed that the family had not left the area. No private guards or rebel fighters were visible in the quiet side street of walled villas.
Al-Megrahi was convicted and imprisoned in Scotland for the 1988 bombing of Pan Am Flight 103, which killed 270 people, including 189 Americans.
The Scottish government released al-Megrahi in 2009, believing he'd soon die of cancer. He was greeted as a hero in his native Libya and met with then-leader Moammar Gadhafi.
Al-Megrahi is the only person convicted of the Lockerbie bombing, Britain's worst terrorist attack. His release after serving eight years of a life sentence infuriated the families of many victims, who suspected Britain's real motive was to improve relations with oil-rich Libya.
Some relatives, however, believe that al-Megrahi was wrongly convicted and that evidence points to Iranian-backed Palestinian militants as the perpetrators.
Mohammed, the neighbor, said he often saw al-Megrahi in the neighborhood. "This guy is sick. All the time, I saw him in the (wheelchair)," he said. Mohammed, a 30-year-old oil worker, said he and other neighbors did not believe al-Megrahi was involved in the Lockerbie bombing and that the family was well-liked in the neighborhood.
Usama el-Abed, the deputy chief of Tripoli's new city council, said he understood the sensitivity of the matter, but referred all questions about al-Megrahi to the rebels' interim government.