NATO Blasts Tripoli With Series of Airstrikes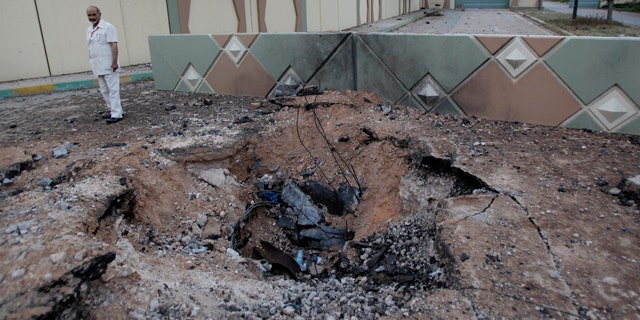 TRIPOLI, Libya -- NATO blasted Tripoli with a series of airstrikes early Thursday, sending shuddering booms through the city.
Ambulances, sirens blaring, could be heard racing through the Libyan capital after the rattling blasts. A NATO statement said the attacks hit military vehicle and ammunition depots, a surface-to-air missile launcher and a fire control radar system.
Libyan government officials refused repeated requests for information.
The airstrikes rained down just hours after NATO and its partners said they would extend the Libyan mission for 90 more days in support of the rebel insurgency. The opposition is trying to oust Muammar al-Qaddafi, who has ruled Libya for more than 40 years. The rebels have taken control of much of eastern Libya.
"This decision sends a clear message to the Qaddafi regime: We are determined to continue our operation to protect the people of Libya," said NATO Secretary-General Anders Fogh Rasmussen.
Extending the mission also reflects the Qaddafi regime's resilience. The government is hanging onto power despite NATO strikes that have targeted military sites and the ruling family since mid-March, as well as a naval blockade and top defections from the government and military.
The defections included the Libyan oil minister Shukri Ghanem, who said in Rome on Wednesday that he now supports the insurgency that has set up a de-facto capital in Benghazi.
"In this situation you can no longer work, so I have left my country and my work to unite myself with the choice of young Libyans to fight for a democratic country," the ANSA news agency quoted Ghanem as saying.
Ghanem said he left the regime two weeks ago and arrived in Rome on Tuesday. The Italian Foreign Ministry refused to comment. Until now Libya has insisted that Ghanem was on a business trip.
Ghanem said Libya's oil infrastructure had been badly hurt by the war.
Until now, oil and gas had accounted for 95 percent of Libya's export income, 25 percent of its gross domestic product and 80 percent of government revenue, according to U.S. government statistics.
The defection followed the departure of eight top Libyan army officers, including five generals, who were presented to reporters in Rome earlier this week by the Italian foreign ministry days after they fled Libya.
Another 13 servicemen loyal to Qaddafi, including a colonel and four commanders, have fled to neighboring Tunisia, the official Tunisian news agency reported. It was the second group of military men to defect to Tunisia this week.
In Rome, visiting Russian President Dmitry Medvedev reiterated Thursday that the Kremlin stood ready to do whatever it can to solve the Libyan crisis through negotiations rather than military action. Russia has criticized NATO's bombing campaign in Libya.
Meeting Italian Premier Silvio Berlusconi and U.S. Vice President Joe Biden, Medvedev said Russia will send an envoy to Tripoli and Benghazi as part of its efforts to mediate, an Italian diplomatic official said. The three leaders agreed that Qaddafi must relinquish power, the official said, speaking on condition of anonymity under customary Italian government policy.
In Washington, Republican members of the House of Representatives set up a showdown over Libya by supporting a measure calling on Congress to disapprove of U.S. military involvement there. Some Republicans and Democrats say they are frustrated with the inability of President Barack Obama's administration to explain the U.S. mission. They argue that Obama violated the law by failing to seek congressional authorization 60 days after military operations began.
On Wednesday, a car exploded next to a hotel where foreign diplomats stay while visiting Benghazi, a rare attack there.
Jalal al-Gallal, a rebel spokesman, said the blast caused no injuries or deaths. The burning car sent plumes of black smoke into the air.
"It's a cowardly act," he said, adding that rebels assume Qaddafi loyalists carried it out.
The car explosion was the first attack of its kind in Benghazi since NATO's bombing campaign helped drive government troops away from the city. Despite months of fierce conflict between rebel forces and Qaddafi's military, Benghazi had been calm.