Myanmar blames 'misunderstanding' after UN envoy mobbed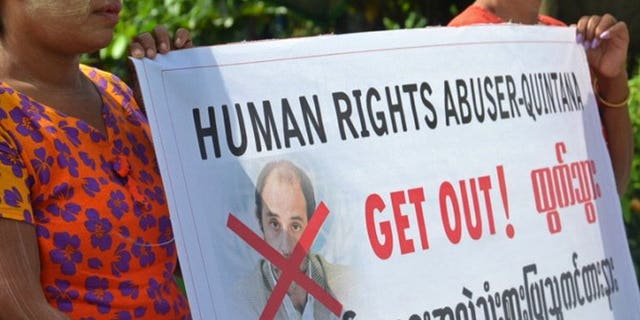 YANGON (AFP) – Myanmar police on Thursday rejected allegations that a convoy carrying a UN rights envoy though a town wracked by religious unrest was attacked by a mob, blaming a "misunderstanding" for the incident.
Tomas Ojea Quintana, the United Nations special rapporteur on human rights in Myanmar, on Wednesday lambasted the country's government for failing to protect him as his car was surrounded by around 200 people, who hurled abuse and punched and kicked the vehicle.
No one is thought to have been injured in the August 19 incident, which took place in the town of Meiktila, central Myanmar, where anti-Muslim violence in March left at least 44 dead.
But a police spokesman in the capital Naypyidaw dismissed the incident as a misunderstanding which occurred as local people attempted to hand a letter to Quintana, prompting plain clothes security guards to rap on car windows to usher the convoy through the crowd.
"Some people tried to give Mr Quintana a letter and show photos they took during his visit in Meiktila... they had no intention to be violent towards him," Lieutenant Colonel Min Aung, of Myanmar's Police Force headquarters in the capital, told AFP.
"There was also a misunderstanding. Some of our security members who were on duty at that time were in plain clothes.
"Some of them signalled for the car to move forward by beating the car glass," he added.
His comments contrast starkly with Quintana's version of events.
"The fear that I felt during this incident, being left totally unprotected by the nearby police, gave me an insight into the fear residents would have felt when being chased down by violent mobs during the violence last March," he told reporters amid tight security at Yangon airport at the end of his 10 day visit to the country.
The government failed in its duty "to protect me", the envoy said, adding that he had be forced to cancel a visit to a camp for hundreds of displaced Muslims in Meiktila over security fears.
Attacks against Muslims -- who make up an estimated four percent of Myanmar's population -- have exposed deep fractures in the Buddhist-majority nation and cast a shadow over its emergence from army rule.
After the March violence, Quintana said the reluctance of security forces to crack down on the unrest suggested a possible state link to the fighting -- a claim rejected by the government.
The unrest followed two outbreaks of conflict in western Rakhine state in June and October last year that left around 200 people dead, mainly Rohingya Muslims who are seen by many in Myanmar as illegal immigrants from Bangladesh.
Quintana, who also visited Rakhine, faced several other peaceful protests during his recent trip.