MS-13 doesn't fear Trump, rival gangs or the police - but they are terrified of La Sombra Negra
MS-13 doesn't fear prison, President Trump or even death. But there is one thing that scares the hell out of tattooed members of the murderous Central American gang: La Sombra Negra.
Spanish for "The Black Shadow," La Sombra Negra is a mysterious paramilitary organization that is part death squad, part vigilante group, and dedicated to responding in extreme kind to MS-13's ruthlessness. MS-13 members captured by La Somba Negra purportedly have been sexually tortured and dismembered before being dispatched with a bullet, their bodies left to be discovered by family or fellow gang members.
While La Somba Negra, believed to be made up of police and military members, is not active in the U.S., where President Trump and Attorney General Jeff Sessions have declared war on MS-13, they have proven a major deterrent to the gang's activities in its homeland.
La Sombra Negra first emerged in the early 1990s in the aftermath of El Salvador's brutal civil war and has since periodically resurfaced over the last decade to sow fear in the hearts of gang members.
Their most recent re-emergence started in 2014 when Sombra Negra graffiti started popping up around the country and an anti-gang Facebook page allegedly linked to the group appeared online.
Then came the dead bodies.
In January 2014, a group of armed men – dressed in dark uniforms and carrying M-16 assault rifles – entered a home near the colonial-era town of Suchitoto, where seven gang members were watching a movie, and opened fire. While three of the gang members were able to escape, four others were beaten and left with La Sombra Negra's signature – a bullet to the head.
"Most of the victims were blindfolded, their hands or thumbs tied behind their backs, and they had received tiros de gracia (a coup de grâce), shots to the base of the skull at close range by weapons such as assault rifles and machine guns," a U.S. Citizenship and Immigration Services report  on the group's tactics noted.
A few days later, flyers began to appear in towns across El Salvador, signed by "La Sombra Negra," that warned of a list of names of gang members and adding that "nothing will stop us."
By spring of 2014, human rights officials in El Salvador identified 10 homicide cases where gang members were killed as being connected to La Sombra Negra.
La Sombra Negra's heightened publicity seemed to empower these ruthless "Robin Hoods" to continue their "social cleansing."
Last March, members of La Sombra Negra - garbed in black face masks and uniforms – allegedly drove into the small, rural town of San Antonio Silva and forced four well-known gang members into the back of a pick-up truck. They then drove to a nearby soccer field where they executed the gangsters at point blank range.
Salvadoran police officials have tried to downplay the re-emergence of La Sombra Negra – claiming that the spate of murders is the work of rival gangs – but the legend of the vigilante death squad is once again taking hold in one of the world's most deadly countries.
"Morally I support this type of expression because people are tired of the wave of delinquency," Guillermo Gallegos, the current head of El Salvador's National Assembly, told La Prensa Grafica.
Just like MS-13, who now operate in other countries in Central America, La Sombra Negra has also apparently gone international with reports of the group pulling people off local buses in Guatemala to carry out their "cleansings."
The fear the group has instilled in MS-13 has become so pronounced that gang members have been covering or removing their infamous tattoos, cutting down on using gang signs and, in some extreme cases, asking judges in the U.S. to grant them asylum because they fear for their lives if they return to their home country.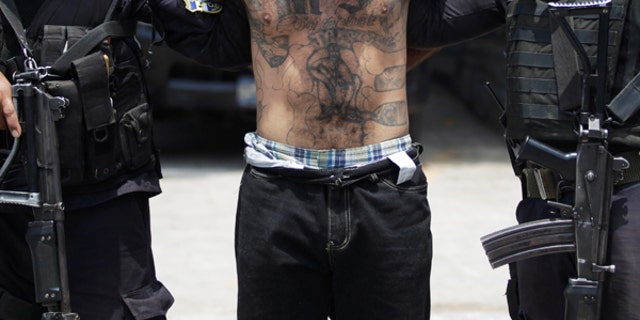 To make matters worse for MS-13 and other street gangs in the region, La Sombra Negra appears to have influenced copycat groups who have adopted their violent tactics to combatting crime.
A death squad called Los Exterminio purportedly was responsible for at least 40 murders of gang members in 2016 – including the execution-style massacre of seven alleged MS-13 members along a country road in El Salvador.
While El Salvador's Attorney General Douglas Meléndez noted that once groups like La Sombra Negra and Los Exterminio carry out their deeds, the violence in a region does go down, he added it is still up to the police and courts to dispense justice.
"After the killings that Los Exterminio were doing, things have been quiet," Meléndez told local Salvadoran media,  adding that "it is the judges, the police, the prosecutor who must apply the law, not extrajudicial groups, because in the area gang members are killed, but so are people who are not."
"We are not going to allow our country to become the Old West," he added.