Mourners pay last respects to murdered Russian opposition figure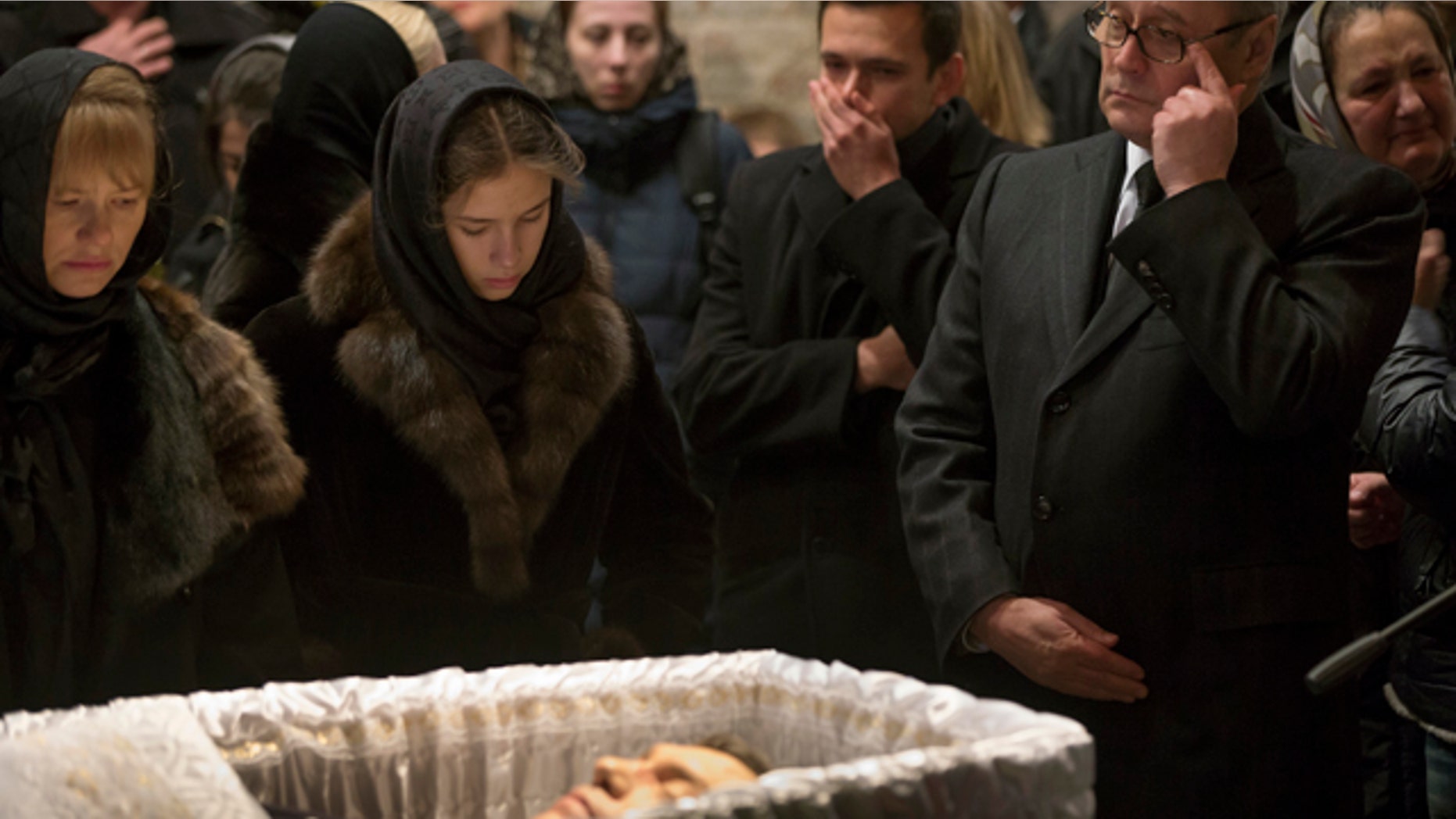 MOSCOW – Mourners and dignitaries filed past the white-lined coffin of slain Kremlin critic Boris Nemtsov Tuesday, paying last respects to one of the most prominent figures of Russia's beleaguered opposition.
Nemtsov was shot to death late Friday while walking on a bridge near the Kremlin with a companion. No suspects have been arrested.
The killing has deeply shaken Russia's small and marginalized opposition movement. Many opposition supporters suspect the killing was ordered by the Kremlin in retaliation for his ardent criticism of President Vladimir Putin, while authorities have suggested several possible motives including a provocation aimed at tarnishing Putin's image.
Nemtsov's body lay in a coffin in the Sakharov Center in central Moscow, named after the late Soviet-era dissident and Nobel Peace Prize laureate Andrei Sakharov.
Among those who viewed him were U.S. Ambassador John Tefft and former prime minister Mikhail Kasyanov, who has gone into opposition. Russian deputy prime ministers Sergei Prikhodko and Arkady Dvorkovich also attended, according to Russian news reports.
Many commentators said that like other key opposition leaders, Nemtsov was constantly shadowed by police, so it would be hard to imagine his killing could go unnoticed by them. Some noted that Nemtsov died on the newly established holiday commemorating the Special Operations Forces, honoring troops who swept through Ukraine's Crimean Peninsula, setting stage for its annexation by Russia a year ago.
Nemtsov's killing was the biggest political assassination in Russia since another Kremlin foe, journalist Anna Politkovskaya, was shot to death in the elevator of her Moscow apartment building on Putin's birthday in 2006. Five Chechens were convicted in the case last year, but it has remained unclear who ordered the killing.
Some observers speculated that certain members of a hawkish, isolationist wing of the government could have had a hand in Nemtsov's death, possibly counting on it to provoke outrage abroad and further strain Russia's ties with the West. Those relations already are at their lowest point since the Cold War because of the Ukrainian crisis.