More war, less aid money, new routes, wearying welcome drive record push by Syrians to Europe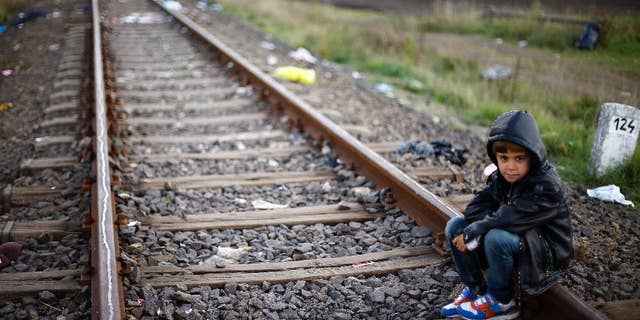 NEWYou can now listen to Fox News articles!
GENEVA – Migrants have for years taken death-defying trips across the Mediterranean to reach Europe, but the flow has hit record proportions this year — notably with an influx of Syrians, Afghans and Eritreans fleeing war, repression or poverty back home.
The push has by some accounts already topped 432,000 people this year. While some are economic migrants, most are Syrians fleeing carnage at home. Traveling mostly into Greece by way of the Aegean Sea from Turkey, more than 175,000 have flooded into Europe this year — already more than twice the number in all of last year, the International Organization for Migration says.
A variety of factors including a spike in fighting and sagging international aid are fueling the surge. Here's a look at major causes:
___
WELCOME WEARING THIN:
Lebanon, Turkey and Jordan have absorbed the lion's share of Syrians fleeing their war-torn homeland, with roughly 4 million amassed in refugee camps and communities in those countries. The countries may now be hitting their saturation point, experts say. Tensions and even clashes are on the rise, and the fraying welcome has contributed to the decision of many asylum-seekers to move on to Europe.
Metin Corabatir, who runs a research center on refugee issues in Turkey, noted how his country rolled out an "open-door" for refugees but never instituted a thorough "integration strategy." Of the 1.9 million Syrians who have fled to Turkey, only about 300,000 are in refugee camps, while the vast majority has taken up life in towns and cities along the border.
"The whole asylum system is based on being temporary," he said. "In the absence of any integration scheme, these people are becoming increasingly hopeless, their situation has been deteriorating."
Doris Carrion, a researcher with the Chatham House think tank in London, noted that Lebanon's government in recent months has blocked UNHCR from registering new refugees the country, which prevents them from receiving aid there. If caught, those unregistered face the risk of deportation to Syria.
Authorities in Lebanon, Turkey and Jordan are also becoming less tolerant of Syrians holding down odd jobs, like working on farms or in shops.
"Local governments and local residents are getting less and less patient with the refugees that are in their country," Carrion said. "So that makes more and more Syrians think 'OK, I have no way of providing for myself here.' I'll risk whatever might happen to me in the journey to Europe."
___
INTENSIFYING SYRIA WAR
A recent spike in brutal warfare inside Syria has combined with the deteriorating conditions in neighboring countries to spur Syrians to flee.
The office of the U.N. High Commissioner for Refugees says some 7.6 million people have been displaced by fighting inside Syria between President Bashar Assad's forces and rebel groups, including the Islamic State group and the al-Qaida affiliate Nusra Front. It says electricity is only available 2 to 4 hours per day in most places, and many Syrians face food and water shortages.
Fighting has intensified in several parts of Syria this year, but mostly in the northern province of Aleppo, the suburbs of Damascus and the southern Daraa region. The insurgents have made their biggest gains in the northwestern province of Idlib, which is now entirely out of the control of government forces except for two Shiite villages defended by pro-government militiamen.
Advances by the Islamic State are a main reason for people fleeing, especially Christians who move to government-held areas while some leave the country. The group in May made advances southward toward Damascus, notably taking control of the historic town of Palmyra. Nusra Front captured Idlib in March, causing many people to get out.
___
SHRINKING AID, DWINDLING SAVINGS:
Slumping international aid is contributing to despair in the refugee camps, spurring them on to Europe. The Syria Refugee and Resilience program, which regroups a number of humanitarian agencies, has received only 37 percent of needed funds for its $4.5 billion appeal this year, said UNHCR spokeswoman Melissa Fleming.
The U.N.'s World Food Program warned last month that it would be cutting its food distribution because of funding shortages. Last week, it started specifying just how much: It has halved assistance to 1.3 million Syrians in the region, and says the reduction in the value of vouchers to buy food means most refugees are living off 50 cents a day. Some 360 Syrians in neighboring countries stopped receiving food aid this month.
Authorities and aid groups are less able and willing to provide them with education, health care and basic infrastructure.
"What we do and all our partners do is far from being enough to respond to the needs, the basic needs of this population," UNHCR Antonio Guterres told The Associated Press recently. "It's because of that they move onwards in a rather desperate situation."
Some Syrians in derelict refugee camps or cramped apartments across the border are willing to tough it out a few years, but they increasingly realize they can't live like that forever. And many are quickly running out of savings.
"Many Syrians who came out to the neighboring countries were quite well off, or middle class," Fleming told reporters recently. "Imagine if you had to live on your savings for four years. I think we would all be quite poor."
___
NEW ROUTES, NEW METHODS:
People fleeing war zones make up the majority of migrants passing through Greece. Tens of thousands are also pouring into Italy — with a mishmash of nationalities led by Eritreans, Nigerians, Somalis, Sudanese and Syrians, according to the International Organization for Migration.
While the main Mediterranean migrant flows of recent years have been from North Africa to Italy and Spain, the recent surge has occurred between the Turkish coast and nearby Greek islands that have been badly underprepared for the influx. From there, the migrants have traveled via mainland Greece, Macedonia, Serbia, Hungary and Austria — what is known as the Western Balkans route.
The European border control agency Frontex, in a published review of migration trends during the first quarter of this year, says the migration flows of last year through the Western Balkans area involved mostly Kosovars heading northward. That changed this year, when Turkey began impeding the use of cargo ships that ferried many Syrians and others to Italy; the Turkish action drove those migrants to try the shorter crossing in the Aegean Sea.
Most migrants taking that route have turned to "large and very well-organized facilitation networks that have cashed in on a lucrative trade by organizing entire journeys for migrants and refugees — featuring accommodation, transfers to Turkish cities like coastal Izmir, Bodrum and Ayvalik, and escort on small boats," the report said.
"Among the reasons why migrants increasingly preferred to reach the EU in the Eastern Mediterranean Sea are the lower costs and lower weather dependency compared to other possible routes," the report said. "Both factors are related to the rather short sea distances between Turkey and Greece."
Western diplomats in Geneva and UNHCR officials note a recent phenomenon in which many Syrians have bypassed giant refugee camps in Lebanon, Turkey and Jordan. They cross the border into Lebanon — plane ticket in hand — and fly straight from Beirut to Turkey. From there, they head to the Mediterranean coast to make the short journey to Greece.
___
Bassem Mroue contributed from Beirut, Lebanon.