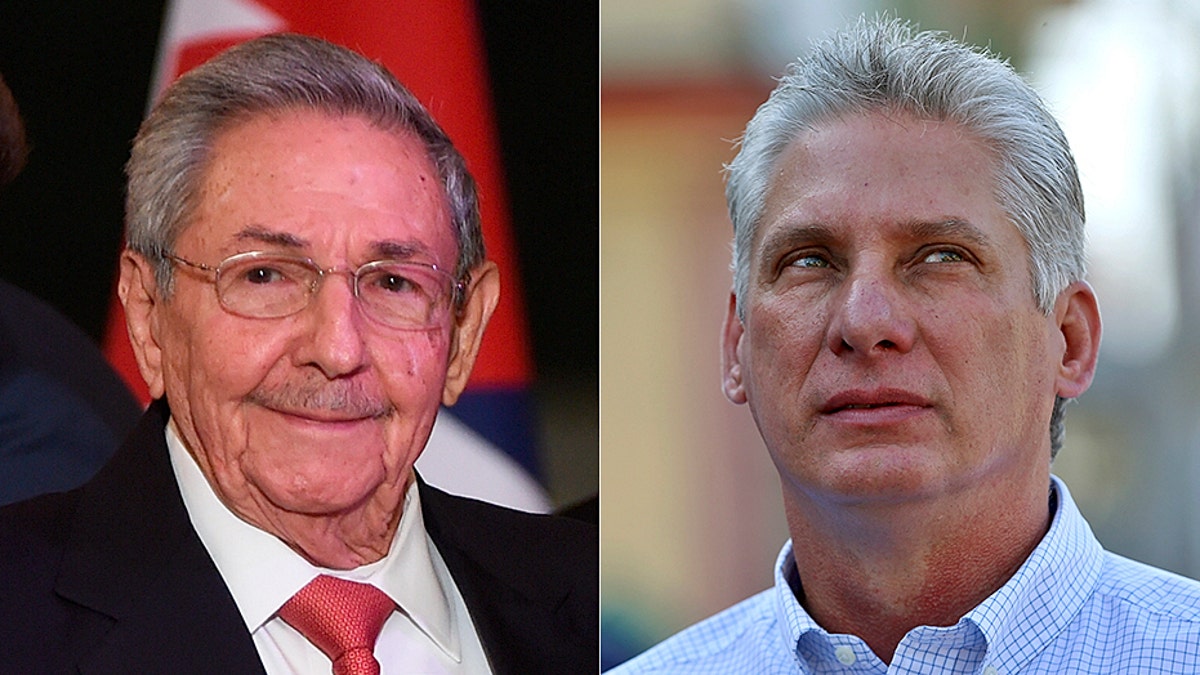 On April 19, for the first time in almost 60 years, Cuba likely will have a leader whose last name is not Castro.
Raul Castro, who took over as leader in 2008 after his brother Fidel became too ill to continue as president, is stepping down at the age of 86 and Cuba's sitting vice president, Miguel Diaz-Canel, is expected to succeed him.
The end of the era of Castro regimes comes after a dramatic turn in U.S.-Cuba relations under the Obama administration, which restored diplomatic relations, followed by renewed tensions after Donald Trump took office and said that he would not continue the march toward friendship with a nation that had made no real democratic reforms.
Once viewed as more open to democracy than the Castro brothers, Diaz-Canel, 57, is likely to continue hard-line policies and a governing style that bows to the Communist revolution, which took place before he was born.
Last year, a leaked video of a private meeting of the Cuban Communist Party showed Diaz-Canel denouncing dissidents, the United States and independent journalists -- while sharing conspiracy theories about how opponents of the Communist revolution were trying to infiltrate elections and run for office.
Echoing the rhetoric that Fidel and Raul Castro favored for building resentment on the island toward the United States, Diaz-Canel said the U.S. government was determined to conquer Cuba economically and politically, and said he found the Trump administration "offensive."
Diaz-Canel said the burden was on the United States to rectify a history of hostilities toward Cuba.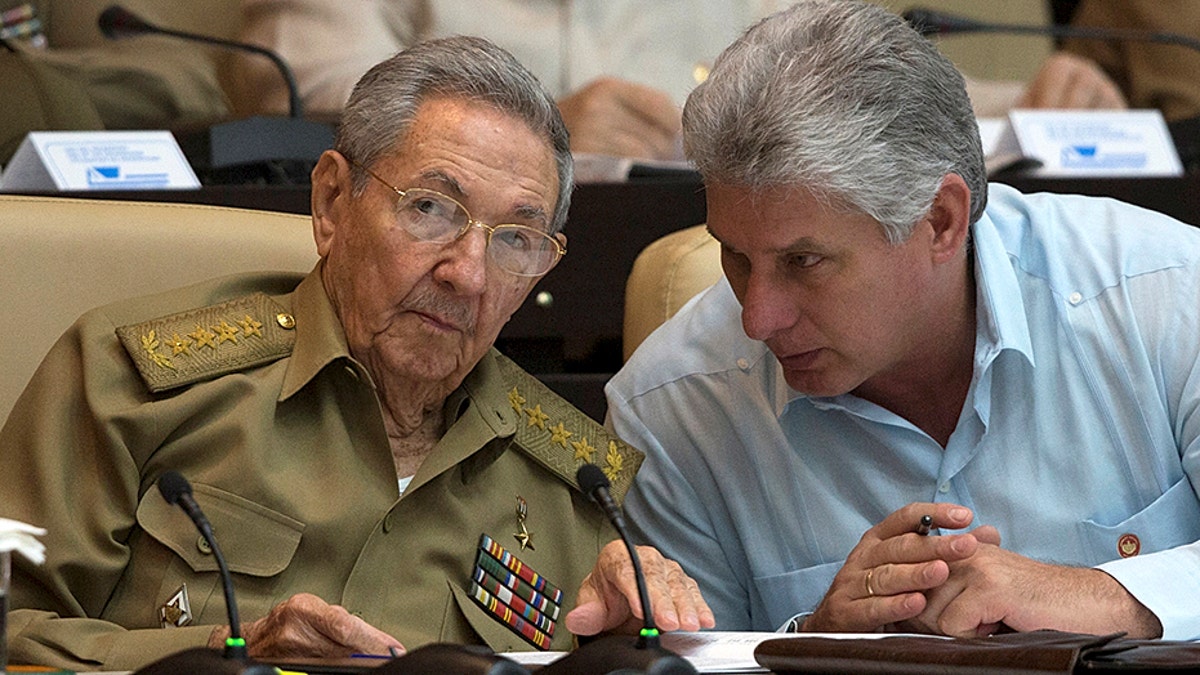 "The U.S. government... invaded Cuba, put the blockade [embargo] in place, imposed restrictive measures," he told the party leaders. "Cuba did not do any of that, so in return for nothing they have to solve those asymmetries if they want relations and if they want normalization of the relations. We do not have to give anything in return."
Diaz-Canel, who has an engineering background, characterized President Barack Obama's efforts to normalize relations with Cuba as an underhanded way of upending the Castro government and mounting "the destruction of the revolution."
He said he had been directly involved in government efforts to stifle dissidents, and accused some of Cuba's most well-known anti-government activists, such as blogger Yoani Sanchez and the Ladies in White, of being subsidized puppets of the United States.
"I always tell the comrades... with whom I work together in this whole confrontation with the counterrevolution: the day we cut the money, the counterrevolution ends," said Diaz-Canel, a tall, white-haired man with a baritone voice who favors buttoned-down shirts and suits to the military fatigues that the Castro brothers usually wore.
U.S. State Department officials told Fox News the agency expects no change in Cuba's oppressive government after Castro steps down.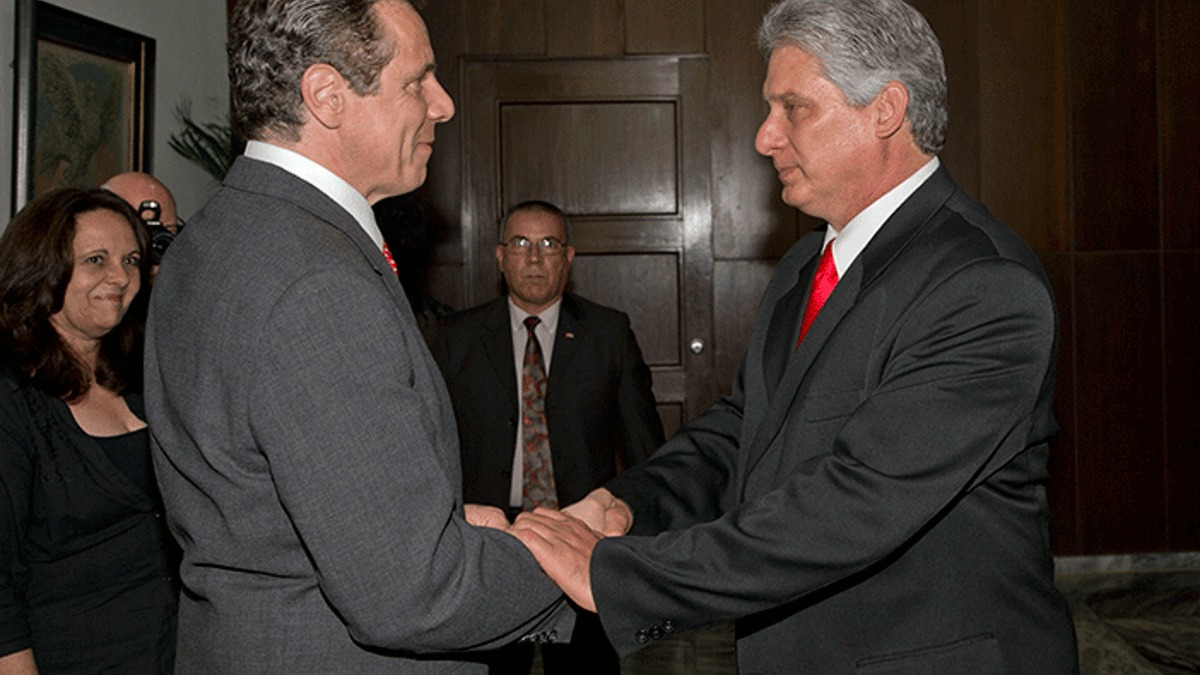 "We would prefer not to speculate ahead of the selection of the next president," a State Department official told Fox News. "However, on March 11, Cuba's Communist Party presented voters with a pre-determined slate of 605 candidates for the 605 National Assembly seats."
"The exercise was essentially a rubber stamp of Communist Party-determined appointments to the body that will select Cuba's next president," the official said. "The Cuban government blocked independent candidates from getting their names on the ballot. Cuban citizens had no real or meaningful choice during this tightly-controlled electoral process, which does not meet the most basic definition of democracy or freedom."
Many Cuba watchers say that Raul Castro will continue to wield enormous influence given that despite stepping down from the presidency, he will remain as General Secretary of the Community Party. If Diaz-Canel succeeds him, it will be because Castro chose him, experts say.
"Diaz-Canel is the designated 'civilian face' of the military dictatorship," said Otto Reich, former assistant secretary of state for Western Hemisphere affairs under President George W. Bush. "We must remember the real power in Cuba will continue to be the Castro family dynasty. Even after 'resigning,' Raul will remain Secretary General of the Communist Party, the most important position in the government…Raul's son, Colonel Alejandro Castro Espín, will remain in charge of counterintelligence (the political police) and therefore the chief enforcer of order, ideology, and loyalty to the dynasty."
Other Castro family members will continue in key positions of government and the military, which owns nearly three-quarters of "the productive sector of the economy, including all tourist infrastructure," Reich told Fox News. "Nothing will change in Cuba until the West stops playing the regime's game."
Senator Robert Menendez, the top Democrat on the Foreign Relations Committee, agrees.

"We must be clear-eyed as we examine the future of Cuba," Menendez said to Fox News. "Raul Castro's hand-picked successor has no plans to release political prisoners, stop harboring fugitives and foreign terrorists, respect free speech or to finally grant basic liberties to Cubans."
""Unless the regime commits to governing Cuba rather than exploiting its people, this transition won't be any different for Cubans."
Cuba's next president would grapple with an economy in crisis, notably because it can no longer depend on Venezuela, which is experiencing its own economic as well as political turmoil.
There's also technological advances that the Cuban government has seen as an evil necessity, trying to adapt to them while also fighting to control the new avenues they have given dissidents wanting to tell the world – in real time – about regime crackdowns on protesters.
Diaz-Canel has told party leaders that government agencies need to use technology to disseminate information – and tenets of the Communist revolution -- to a younger generation on the island that increasingly turns to social media. He also said that Cubans should be able to use the Internet and social media to interact with the government, even "to criticize." Most Cubans, however, lack easy access to computers and the Internet. They must visit Internet cafes to get access.
Unclear, of course, is what changes will occur, under Diaz-Canel or someone else, once Raul Castro no longer has the same influence on the government.
Raul Castro presided over some key reforms that included allowing Cubans to run their own businesses, entering the agreement with Obama to restore diplomatic relations, and allowing some of Cuba's most prominent dissidents to travel abroad -- where they often denounced him and human rights violations on the island -- and return home.
While Raul Castro did these things, which Fidel was loathe to do, he often pulled back, maintaining an iron first on dissidents -- who routinely were arrested and detained -- and he criticized Obama shortly after hosting the U.S. president during the historic 2016 visit to Havana.
John Gronbeck-Tedesco, a professor at Ramapo College in New Jersey and author of books about Cuba, said the impact that a Diaz-Canel government could have cannot be predicted at this point.
"What Diaz-Canel does or doesn't do will depend on how Cubans respond to the first non-Castro leader in three generations," Gronbeck-Tedesco told Fox News. "The key unknown, it seems to me, is how young people will respond to the change in leadership."
"Undoubtedly, Diaz-Canel will have to address them as a key constituency, which the Castros were able to overlook due to the history of the revolution," he said, "but now young Cubans have expectations after having had their voices silenced or ignored for many years. Diaz-Canel may have to confront this oversight early in his leadership."