Migrant caravan leaves Mexico City, with eyes on march to US border
The caravan of several thousand Central American migrants resumed their march Saturday toward the U.S. border, departing Mexico's capital city on a trek north to where troops have been deployed by President Trump to stop them.
The caravan, which now is made up of about 4,000 migrants, had been in Mexico City for the past four days resting before resuming their journey to the central Mexican city of Queretaro. The group began their trek by taking the city's metro system to the outskirts before walking and hitching rides along a main highway.
When the group arrived in Queretaro, they were met by volunteers offering them tortillas, sandwiches and rice, according to the Associated Press. Local officials had prepared a stadium for the group's arrival, and the migrants strung up tarps and tents to spend the night.
"I decided to come (with the caravan) to help my family," Maria Yesenia Perez, who left La Ceiba, Honduras, nearly a month ago with her 8-year-old daughter, told the AP.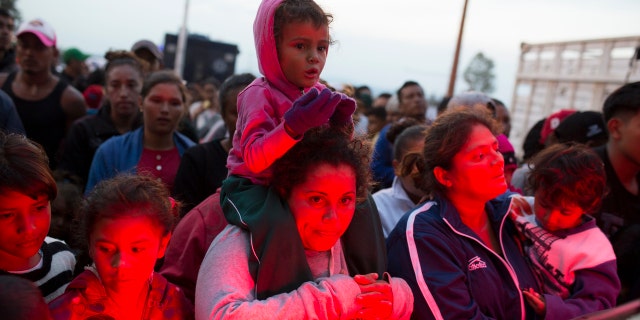 Some of the original group has split and is expected to arrive in the border city of Tijuana on Monday, according to Reuters, while others later in the week are expected to reach Reynosa and other border towns.
MIGRANT CARAVAN GETS WITHIN REACH OF BORDER: WHAT HAPPENS NOW?
Those reaching the border will have a tougher time applying for asylum if they choose to cross into the U.S. illegally. On Thursday, the White House announced that migrants will not be allowed to enter the U.S. illegally to file asylum claims, which is how the vast majority of roughly 150,000 Central American families and children entered the U.S. last fiscal year.
Instead, they will be required to enter through official ports of entry, like those near San Diego, Yuma and El Paso. By issuing the new directive, Trump is in essence creating a bottleneck by funneling tens of thousands of illegal immigrants to already overcrowded ports.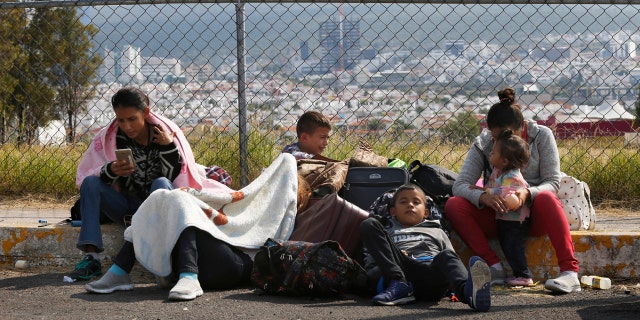 But that's not deterring those still in the caravan.
"It doesn't matter what rules (Trump's) government imposes, we cannot go back to our countries. I have a bullet in my arm and another in my shoulder. If I go back home, it'd be better for me to go with a casket," 30-year-old Julio Caesar, who is from Honduras, told Reuters.
MIGRANT CARAVAN PLOWS ON DESPITE FACING BORDER BOTTLENECK AFTER TRUMP TIGHTENS ASYLUM RULES
Many of the migrants in the caravan are now hauling bundles of blankets, sleeping bags and heavy clothing to protect against colder temperatures in the northern part of the country after leaving Mexico City. Some left the capital with bottles of water and clear plastic bags of bananas and oranges for the long trek.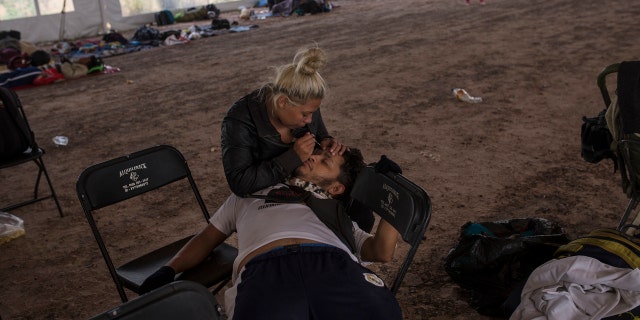 Others were given juice and ham sandwiches from volunteers as they set out.
Maria Yesenia Perez, a 41-year-old who left La Ceiba, Honduras nearly a month ago with her 8-year-old daughter, told the AP she was prepared to wait to gain entry at the U.S. border.
"I decided to come (with the caravan) to help my family," she said, before she and her daughter were hoisted onto the back of a semitrailer.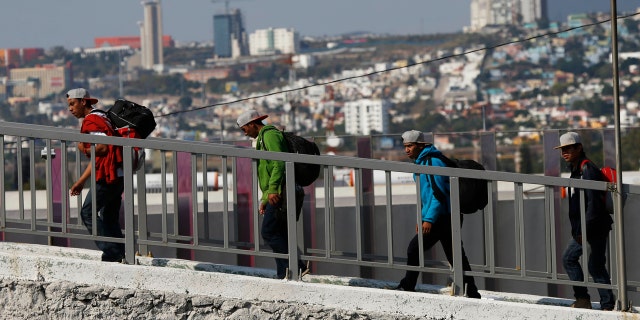 The caravan became a campaign issue in U.S. midterm elections and President Trump has ordered the deployment of more than 5,000 military troops to the border to fend off the migrants.
Many in the caravan say they are fleeing rampant poverty, gang violence and political instability primarily in the Central American countries of Honduras, Guatemala, El Salvador and Nicaragua, and they have now been on the road for weeks.
Fox News' William La Jeunesse and The Associated Press contributed to this report.