Mickelson hits opening 66 at Scottish Open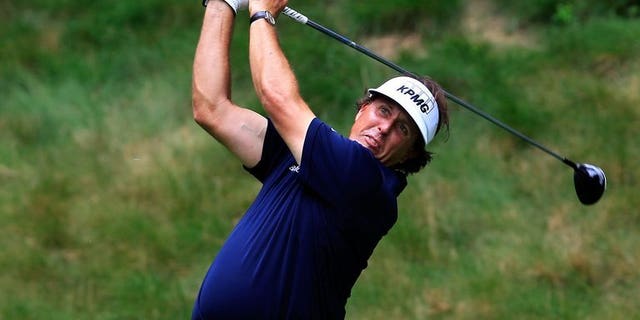 CASTLE STUART, United Kingdom (AFP) – Four-time Major winner Phil Mickelson made the most of near benign conditions to post a six-under-par 66 early on the opening day of the Scottish Open near Inverness.
In the build-up to next week's (British) Open, Mickelson started with a bogey but then eagled the third hole of his round and added six birdies and one bogey.
It left the current World No. 8, who is contesting his ninth Scottish Open , sharing third place and just two shots behind England's John Parry who enjoyed the clubhouse lead after signing for an eight under par 64.
"The challenge today for me was to remain patient on this course because the great thing about Castle Stuart is there is a number of easy birdie hole and number of hard par four holes, so if you are patient on those more difficult holes you will have birdies as the round progresses," said Mickelson.
"Castle Stuart is also just a perfect set-up for next week because it gives you a chance to hit all the shot we will have to hit next week, and play those bump-and-run shots into the green but not get beat up the week before The Open.
"You can only handle so much punishment the week of The Open where the rough is so thick and the penalty for missing the fairways is so severe that it's nice to have a week where you don't get punished but then you are still hitting the same shots.
"So it's great for me to get off to a decent start because I have gotten off to poor starts the last couple of years here and I've been fighting just to make the cut and get myself into reasonable contention.
"Now getting off to a good start I am not having to now battle uphill and I can move up the leaderboard if I play well.
"And also the best way for me to get ready for next week is to get into contention and experience the nervousness and the butterflies and to try to win.
"When I won the Masters in '06 I ended-up winning the week before in Atlanta by 13 shots and I thought that could not have been a better way to get ready for a Major Championship than to play well, get into contention and hopefully win as I managed to do that week."
Parry played in the same 2007 GB & I Walker Cup side as Rory McIlroy but, unlike the Northern Irishman, the 26-year old Parry is looking to win for a second time after a maiden victory two years ago in France.
Last year Parry lost his Tour card but returned to the Tour School to finish first among the graduates.
His round was just one shot shy of his career best score and came just a handful of weeks after making his Major's debut in the US Open at Merion.
"Playing in the US Open was the catalyst for me to start playing better, and start making cuts again," he said.
Defending champion, Jeev Milka Singh put aside a nagging right index finger injury to shoot a five under par 67.
And Singh expressed his disappointment in having to miss the premier in India of the movie Bhaag Milkha Bhaag (English: Run Milkha Run) on the life of his father, Mika Singh.
"It is a very emotional thing for the family, because the movie is made about a man who is still living, and it's an inspirational movie, and I wanted to be there for my father," said Singh.
"I've seen the movie three times and I think it's going to be one of the best movies of the year. I cried three times, so I can say it's a good movie."